Cultivate a Fun Loving Approach to Online Casino Gaming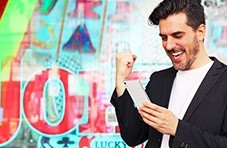 Every casino game has some basic personality types that play it.  There are also different personality types for online gaming and for land based gaming.  Here we'll talk about the various casino gamer personalities.  See if you fit into any of the described molds. 
Online Casinos
The single biggest difference between online casino gamers and land based casino gamers is that online gamers have no investment in their gaming other than their bankroll and gaming budget.
The most popular game that is played at Springbok, THE online casino for Kiwis is slots or pokies.  An online pokies player is far more likely to play just for fun.  That's because playing at an online casino fits seamlessly into one's daily routine.  If you don't have time to play one day, it's not a big deal since you were busy doing any of the many other things you have to do every day.  So, the number one online gaming type is the Fun-Lover. 
Different Types of Fun Lovers
Online pokies gamers like to spin the reels.  There are so many pokies at Springbok that the fun-loving online gamer can go from game to game, sampling them all at their leisure.  Online pokies have themes and storylines which thrill pokies players in and of themselves.
In the sense that fun is the key pursuit and the games require only a fun-loving attitude, pokies players, baccarat players, keno players, and bingo players share a lot in common.  Craps and roulette are the other two casino games that rely on luck alone but craps and roulette also offer a wide range of bets so the fun-loving craps and roulette players get their casino kicks as much from deciding which bets to make and then cheering on as the dice are rolled or the roulette wheel gets spun.
Finally, we get to the video poker and blackjack players.  The most fun these players have is when they outsmart the house!  Pokies players can't outsmart the house; they can out-luck the house but pokies have no real skill or strategy.  Video poker and blackjack are all about the strategy.  Strategic decisions come up in every hand.
These fun-loving players can easily shrug off a small losing streak.  They can easily close out a session in which they make all the right decisions but luck is not a lady for them that time.  The fun is more in making the best decisions than in winning a lot of money.  To them, online casino gaming is simply another form of entertainment so they never risk losing large sums of money and take both wins and losses in stride.
Serious Gamers
Online gaming does have a serious side for some gamers but a lot less than at land based casinos.  Serious gamers study the strategies for blackjack and video poker and get frustrated when their good decisions don't show the "proper" fruits of their labour.
Serious gamers have less fun playing pokies or bingo and, truth be told, have less fun playing blackjack and video poker as well.  That's a direct function of taking gaming too seriously.  It gets even worse when serious gamers travel to a land-based casino as we'll soon see.
Nervous Gamers
These gamers simply worry too much.  There are only two solutions for nervous gamers.  One is to play with a minimal bankroll.  This keeps the risk down to the barest minimum and can, over time, assuage the gamers' nervous fears of losing.  The nervous gamers seem to not realize that online casinos return to players between 96-99% of all wagers.  With these percentages, gamers can play for low stakes for a good length of time and end up winning a little or losing a little.
So, playing for modest stakes is one way to ease the nervousness some feel from online casino gaming.  The other way is simply to play for free.  This is one of the big advantages of playing at an online casino: you can always play any game for free.
Land Based Casino Gamer Types
There are serious disadvantages to playing at a land based casino and the three gamer types we have described here have a much harder time at land based casinos.
It is a lot harder to play just for fun at a land based casino because the players have invested money in travel and accommodations.  If they hope to win back their "investment" they have to play long after they have become tired.  The pressure to win back some of the cost of travel makes it a lot harder to simply have fun.
Another connected disadvantage of land based casinos is that if you aren't gaming, there is little for you to do.  Casinos are designed to get you playing casino games and to continue playing casino games.  The lack of clocks and windows makes it easy for gamers to stretch a gaming session into many hours and to be playing in the wee hours of the morning instead of getting a good night's sleep.
Land based casinos return a smaller percentage of bets back to gamers so the feeling of frustration if luck turns away from you is exacerbated at a land based casino.
It's impossible to sample all the pokies that a land based casino has because if you go to try out another game, another player will take your seat.  This is another source of frustration felt at land based casinos: the many different games are right there seemingly at your fingertips but not really since they are also at every other gamer's fingertips as well.
It's harder to be a fun loving gamer at a land based casino but some players do manage to pull it off.
Strategy Games
Video poker is a good game for strategy-minded players at a land based casino because it is a solitary game.  No one will question your decisions.  Blackjack is the opposite.  Serious and strategy minded blackjack players at land based casinos have to deal with other players who will criticize sometimes to the point of berating them for their strategy decisions even if the critic is completely wrong.
Nervous Gamers
It is possible to play casino games for very low stakes at most land-based casinos but you still have to contend with travel costs.  It is, however, impossible to handle nervousness by playing for free at a land-based casino.
The obvious conclusion from this discussion is that online casinos are superior to land-based casinos in many ways.