Make Springbok Online Casino Your Home in the New Year
Details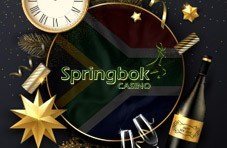 For most people, the online casino is a comfy place that allows them to unwind from the cares in their everyday life and focus some attention on games of chance. They spend their days working hard to change the world in some way, and the idea of coming home and playing games that don't require strategy or planning is the perfect alternative. 
That's why the online casino is so well stocked with games of pure chance. There are so many variations of slots games, which may be the purest form of chance in the entire online casino. There is simply no way to influence how the reels are going to stop. You can't work on your technique or practice different methods. You simply spin and wait, and the tension rises as the reel slows precisely because you had nothing to do with it. 
The tension is even stronger depending on how much is at stake. But make no mistake about it. Even a token amount of real money can raise the level of engagement dramatically. When it suddenly becomes meaningful in a real way how the reels land, then watching and anticipating takes on a whole new meaning. 
That's also exactly what makes it so relaxing. We get to turn off the part of our brain that we use for our everyday life and tune into another wavelength, one that does not get enough attention, but one that feels great and may even connect to some part of our intuition, which is a deeper part of ourselves. 
Expand and Grow in Games
People who love casino games are particularly lucky to be living in this day and age. While casinos have existed for many years, casino games have never been so widely available as they are today, and there have never been more people playing them than there are across the world on the Internet. 
In the old days, you would have to sacrifice a great deal of time and effort to play games, and it would usually be part of a longer getaway to some exotic part of the world. Today, you can play in the middle of the night in your pajamas, when you wake up and have your toast and coffee, or when you're on the commute to or from work. More and more of the world is getting wired to the Internet, so the number of places you can play in real time and for real money is growing daily. 
So it makes sense to take advantage of this fortuitous age and play games as you would enjoy playing them. The stakes are as high as you set them, and the casino looks and feels exactly as you make it look and feel. The only thing you need is a connection to the Internet and you are set to go. 
Finding the Time to Play
It is the nature of the online casino that there is no bad time to play casino games for real money. That's particularly true when you are at home and can get online through your home computer, your laptop, or any number of other devices.
And it's just as true when you are on the go thanks to the mobile casino. That means that you can either play in blocks of time when you have them and get to build up some momentum, or in small chunks whenever you can find them, like when you need to clear your mind to switch gears at work, or when you just want to let your mind rest from its problem-solving state and return to a difficult problem. 
With the mobile casino, you never need to worry about wasting time waiting around with nothing to do. How often do we all sit in the doctor's waiting room waiting or our turn, growing increasingly tense as the wait goes on and on? Same at the bank or even in line at the grocery store. But with the mobile casino, that time can be used for a few quick games of online slots or poker. 
And if luck is on your side, you could end up winning at least a little extra cash.