Every Question You Have is Important to Us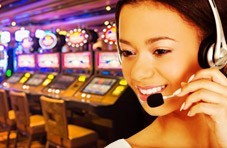 It's been about twenty years since the first online casino entered the market.  So much has happened from the technological side, the games side, the banking side, and much, much more.  New players keep coming to online casinos and the casinos continue to respond with excellent sign-up packages for new players.
Springbok, the top Aussie online casino, features a large assortment of online pokies in accordance with the proven Aussie love affair with pokies.  Still, we at Springbok never sit on our laurels or on our past accomplishments.  Like any business, we strive every day to do better and to offer a more rounded set of products and services to our players.
In keeping with that approach, we are devoting this article to some of the many questions present or potential online casino gamers have about our casino and about online casino gaming in general.
Why Do Online Casinos Have So Many Pokies?
This is not just an Australian thing.  Pokies, or slots as they are known almost everywhere else, remain the most popular game category at both online and land-based casinos.  Modern pokies are driven by technology in the sense that they are no longer the mechanical games that were around in the early decades of pokies play.
Since pokies today are digital, there is a lot more room for innovation and imagination.  This is also true in some other game categories such as blackjack and video poker but it is by far the most pronounced in pokies.
Pokies are all about the storyline, the graphics, the animation and background music and sound quality, and the bonus features.  Some bonus features are exclusive to the bonus rounds whilst others may occur at any time in the regular game or in the bonus round.
One example may suffice for now.  The cascading reels feature could only have taken place in a graphics-driven pokies environment.  The mechanical machines could not perform this function.
One final word about the prevalence of pokies at online casinos.  Land-based casinos would love to have as many pokies as online casinos have but they are limited by two very real aspects of the casino world.  First, they have walls so the number of games will always be limited by space.  Secondly, a land based casino has to have several of the most popular pokies so customers can get a seat at their favourite game.  Online, there is never any waiting so we have one of every pokies game we offer and a million people can play that one game at the same time!
How Do We Know that Our Money is Safe?
This question is not unique to online casinos; it is pervasive throughout the online business community.  There is good reason that online shoppers and gamers are concerned for the safety of their money.
In the first days of online casinos, which was fully one decade before Springbok came online, the first casinos were leery of outside regulation and certification.  It was only after that realized that there was a huge online gaming market that was simply waiting to hear that everything was satisfactory with online casinos that these early online casinos embraced the idea of outside certification and regulation.
Now, all financial transactions are safe behind a powerful firewall of the most sophisticated encryption software available online.  This is the same type of encryption software used by online banks, investment firms, and commercial businesses.
How Do We Know that the Games are Fair?
This question really is unique to the online casino industry.  The answer is that every online casino game except the live casino games is controlled entirely by a Random Number Generator.  This is software that never stops operating.  You engage the RNG by clicking spin or deal and it stops at a specific moment after you have clicked.
Every game is entirely independent of the game that came before it.  So, there is no such thing as a cold pokies game, a hot blackjack table, and so on.  A big jackpot might quite a while to be won or it can be won twice in one day!
Are There Any Hidden Secrets about Online Gaming?
There are still a lot of gamers who go to land based casinos because they want to touch the pokies or video poker machines, or the cards in poker or blackjack, or see the dice roll on the table in craps, or watch live as the roulette wheel is spun.
Many of these gamers feel that there is some hidden secret or secrets in online gaming.  In fact, by now there have been so many millions of words written about how online casinos work that there ought to be no hidden secrets.
Having said all that, we can say that there are five areas where many gamers still don't know the exact reality about online casino gaming.
Online casinos have higher return to player rates than land based casinos.  This is because online casinos have far less overhead.
Online casinos offer unlimited free play simply because it costs them so little to do so.
At online casinos, you never have to wait for a game or a seat at the table.  Land based casinos are severely limited by their walls and the need to have multiple pokies and video poker terminals of the same game.  That's because so many people want to play specifically those games.   A million or even more players can play a single game at an online casino.
Online casinos offer more bonuses than land based casinos because at an online casino, players can work through the wagering requirement for bonuses at their leisure whilst, at a land based casino, their time is limited.
Many gamers don't know that to qualify for a progressive jackpot, they have to bet the maximum on the winning payline.  Many gamers also don't realize that to qualify for the extra bonus for a Royal Flush in video poker, they also have to bet the max.  This is true of online and land based casinos alike but online casinos have the advantage of being able to offer many games with lower minimums, thus making these extra winnings accessible to more gamers.
To Be Continued
We will continue this rundown of the most prominent FAQ about online casinos in our next article.  Stay tuned and happy gaming!