Almost Everything You Wanted to Know about Springbok Casino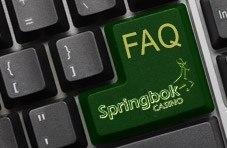 In this article, we'll continue with the FAQ that we feel many new and even experienced Springbok Aussie online casino players would like to ask:
Why Should I Accept the Sign-up Bonuses?
We understand that on the vast internet there are some people saying not to accept sign-up bonuses.  This is purely erroneous information.  Sign-up bonuses are part of the great competition that all online casinos feel.  New players get a big advantage from sign-up bonuses.  One advantage is being able to sample as many of our large collection of online pokies as possible with your bonus money.  Many gamers find that they like playing pokies in genres that they had previously thought were not so very interesting to them.
Springbok is very flexible with all our sign-up bonuses.  We allow players to play all games except progressive jackpot games.  You can still win a lot of money using our new player bonuses even though you can't win a million Rand progressive jackpot.
We also offer comp points for playing with your deposit and your no deposit bonuses.  Finally, our wagering requirement, at a mere 30%, is very fair.
What is the Wagering Requirement?
Now, we know that you would never do it, but there are some unfair gamers out there who would take a bonus and withdraw it immediately if we didn't have a wagering requirement in place.  In the early days of online casinos, some players did exactly that.  It didn't take long for the online casinos at that time to institute wagering requirements.
A wagering requirement simply means that you have to wager a factor of the bonus before you can withdraw any part of the bonus or winnings.  We keep track of your bets toward finishing the wagering requirement.  Once you've done so, you can withdraw money from your account.
Some casinos have wagering requirements of 50x or even more so.  Our requirement is among the most fair and reasonable.
Should I Download the Casino?
To be fair, we would like everyone to download Springbok.  We know, however, that the graphics in our instant play platform are so good that most players these days prefer to play in that format rather than burden their computer with a downloaded casino.
If you have a massive amount of room in your hard drive, you might decide to download the casino as there are a very few games and options that are available only in the downloaded form.  Still, most players eschew the download and opt for instant play.
Is Mobile Gaming Really that Good?
Mobile gaming has come a very long way from the very early days.  Everything on the technological side is vastly improved over what was available even ten years ago.  It may surprise you but now more than half of all online casino gaming is done on mobile devices.
A lot of mobile gaming is played whilst gamers are commuting home from work or are waiting somewhere.  This naturally means that a lot of mobile gaming is for short periods of time.  If, for example, you want to join a pokies tournament, you can play on your mobile device but you should expect to play mostly on your desktop or laptop computers.
On the other hand, many gamers play a few spins on a progressive game hoping to win whilst they are travelling or waiting.
Why are Pokies Tournaments Good?
Pokies tournaments often start and end on the same day.  Some last over a weekend or over the course of a single week.  Most have little or zero buy-in costs so your investment is nothing with rather large chances to win the pot or part of it.  And...the community aspect is really fun!
Why Are There so Many Deposit Methods?
Maybe life was easier when we wrote checks, carried cash for basic everyday purchases, and few people had credit cards.  People under 50 don't remember when all the credit cards that had been reported stolen or lost were listed in a small booklet that every cashier had to leaf through to verify that your credit card was valid.
Today, almost everyone has a credit card.  The strip on the back is verification enough that the card is good.  In addition, many people make purchases through ewallets, with direct transfers online from their bank to the seller's bank, and so on.  Even cryptocurrencies, which were created as an alternative to government currencies, have entered the mainstream economy albeit in a small way just yet.
Online casinos have to be flexible enough to accept many types of deposit and withdrawal options for the safety, security, and convenience of their millions of gamers.  Springbok has several deposit methods to choose your favourite from.
Why Does it Take Longer to Withdraw than to Deposit?
This gets back to verification, safety, and security.  We at Springbok feel that no one would steal your money in order to deposit it in your account at your online casino.  However, the internet is full of people who would like to steal your money as it transits cyberspace between the casino and the landing place of your designation.
We use the very finest encryption to protect your money but, for withdrawals, we want to be doubly sure that we are sending your money to you and not to someone masquerading as you.  We are sure who you are yet we make extra sure for your sake.  That's why withdrawals take more time than deposits.
What are Some Common Mistakes Gamblers Make?
These are often more pronounced at land-based casinos, but here we go:
Avoid Distractions
Sometimes gamers play when they are distracted.  This leads to small errors in judgment.  At a land based casino, the errors in judgment usually take the form of trying to recoup losses because when you travel to a land based casino there is little else to do but gamble, eat, sleep, and drink.
When you play online, you could be distracted by family and work responsibilities.  When that happens at home you can simply close out the gaming session.
At land based casinos, you might be distracted by scantily clad waitresses or other staff.  At home, we hope that the scantily clad distraction is your significant other and you like being so distracted.
Avoid Alcohol
Nothing stands in the way of having fun whilst gaming more than alcohol.  Land based casinos push free drinks.  Avoid them.  At home, save the alcoholic drinks for after you finish gaming.
Play for Free
We want all gamers to know the game they are playing so we offer unlimited free play when you try out a game you aren't familiar with.  Land based casinos can't afford such a luxury.
Betting Systems
These betting systems  - the Martingale is the most well-known - don't work, so avoid them.
Failure to Bet the Maximum
In video poker, you need to bet the maximum in order to win the extra payout for a Royal Flush. 
And, in a progressive game, you need to bet the max to be able to win the big jackpot.
Failure to Use Bonuses
If you can afford to make a deposit, wait to do so until you can earn free money via a deposit bonus.
Failure to Ask Questions
We have a customer service office that is open all day every day for your benefit.  If you have any question at all, please contact Springbok Casino.  We'll do everything we can to answer your questions to your satisfaction.