Excellent Tips for New Online Casino Gamers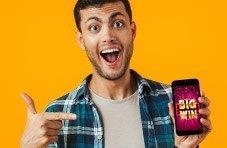 There are millions of people around the world who play casino games online.  At Springbok, we're happy to be able to say that we are the top online casino for New Zealand.  One of the many ways we stay on top of everything our gamers want to know is by thinking out of the box.
Today, we will talk to every Kiwi who is thinking about joining the Springbok family.  Here are some very important tips for new online gamers.
Have Fun
This might be the most important piece of advice we can give.  Everything else flows from your desire to have fun and our desire to facilitate some fun for you.  As you'll see in the upcoming tips, there are a lot of things we can do for you and we do our best to deliver on all of them!
The "have fun above all" motif will reappear in almost every one of the following tips.
Reputable Casino
There are thousands of online casinos nowadays.  We, at Springbok, know that our success is directly tied to your gaming fun and satisfaction.  We do everything we can to enhance your gaming fun. 
One of the most important ways is simply to be as transparent as we possibly can be.  We are regulated and certified in Curacao and we follow a strict code of privacy to give you the confidence that anything you tell us stays here.
A reputable casino also uses the best online encryption system to protect your money.  The encryption software that we use is as good as the encryption used by large online banks and other financial institutions.
Although it's actually quite easy for an online casino to be certified and to follow the regulations of the body that regulates it, many casinos still remain outside of any regulatory agency.  Your gaming fun starts with the confidence that everything at the casino is straightforward and fair.
Play Games for Real Money
As you will see in the following tip, you can play for free at any reputable online casino.  However, most gamers like putting some money on every spin or hand.  Online casinos can allow gamers to place very low bets on any game, as well as very high bets. 
Land-based casinos are the most restrictive.  For example, you might want to play at the low minimum blackjack table but two things may work against you at a land-based casino.  First, there may not be a low minimum table at that casino.  Second, even if there is a low minimum table, it may be full.
At an online casino, this never happens.  There is one game because cyberspace allows millions of players to play the same game at the same time.  So each game will have a low minimum and a very high maximum for high rollers.
Play New Games in Free Play Mode
Free play is mostly for players to get acquainted with a gene that they have not played before.  It's a simple concept: let players take as long as they need to get familiar with a new game.  Remember, fun is the key and if there is anything players don't like, it's having to pay to learn a new game.
So, play online for free for as long as you wish.  It even pays off to make a point of it: if the game is unfamiliar to you, start off in free play mode to learn the game before putting down your own money.
Take Advantage of Bonus Offers
Online casinos can offer a lot more cash bonuses than land-based casinos can for at least one very good reason.  Every bonus comes with a wagering requirement.  This is sometimes called the playthrough requirement.
Casinos learned the hard way that if they simply offered bonuses, some players would accept the bonus and then immediately withdraw the money.  So, before you can withdraw money, you have to wager a factor of the bonus.  The reason that this is so much more attractive from an online casino is that the players can complete the wagering requirement at their leisure.  It doesn't matter if they complete the playthrough requirement in a day or a month.
Few players have a month in which they can go to the land-based casino that gave them a bonus in order to complete the playthrough requirement for that bonus.
Understand Playthrough Requirement
It always helps to fully understand everything you do at any casino be it online or land-based.  So, here are a few words about the play through requirement.
Every casino set sits own factor for completing the play through requirement.  Online casinos, which may offer daily, weekly, or monthly bonuses, may have a different wagering factor for its different bonuses.  So, before you accept any bonus, be sure you know the wagering factor for that bonus.
Casinos award more wagering points for different games.  At most casinos, slots have the highest wagering factor.  Make sure that the game you want to play has a fair wagering factor for the bonus you want to take.
Play a Full Range of Games
Land-based casino gamers tend to play the same games every time they enter the casino.  That's because they often feel a time constraint from the first moment onward.  This type of time constraint never occurs at an online casino.  The convenience of online gaming is simply without parallel in the land based gaming world.
So, when you play at Springbok, play all our games just for the fun of it.  Many gamers discover games that they had never played before and come to love playing at the online casino.
Contact the Casino
Springbok casino runs a 24/7 customer service office.  You can contact the service office by way of email, chat, or telephone.  Most gamers wait until they have a serious question before contacting the service office.  We recommend that you contact the office when you think you're ready to sign up or just at random after you have already become a frequent player.
We believe that you'll get excellent service from our customer service desk and that it will give you even more confidence that you are gaming at a great online casino.