What to Look for in a Slots Game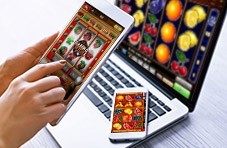 Slots are the straw that stirs the online casino gaming drink.  Whilst an online casino might have ten variations of blackjack or of video poker, it might have a few hundred different slots games.  So, here are a few things to be on the lookout for when you go to play slots at an online casino.
Your Personality
Everyone has their own specific slots personality.  Some like high volatility and others prefer low volatility.  People who play slots in pursuit of big wins or progressive jackpots accept that those slots have high volatility.  People who play mostly for the fun of it, and accept small wins and small losses usually prefer low volatility.
Volatility refers to the frequency of wins of any size.  High volatility means that when you win, you get a substantial win but these wins are relatively far apart.  Low volatility means that you get frequent wins but that these wins are usually for small sums.
A low volatility player will likely not enjoy a high volatility game.
Game Themes
Another aspect in the "know your personality" idea is that there are so many slots categories and themes that every gamer will have one or two preferred themes.  At an online casino, you can sample slots in every theme because you never "lose your seat" when you go to try out a different game.  At a land based casino, you can't save a seat so land-based casino gamers always sample fewer games.
Slots, far more than any other casino game, lend themselves to flights of imaginative fancy on the part of the player.  This is one effect the game developers are always looking for as they develop new games every month.
A player who prefers 21st or 20th century themes may also like so-called Viking slots as a diversion.  Viking slots are set in a long-gone era.  They use the ancient gods of mythology as symbols.  Yet they play a big role in the ongoing popularity of slots.  Gamers like to vicariously live through their games, books, movies, and television programmes.  Slots play a big role in this relatively modern phenomenon.
Slots Bonuses
There are many different ways slots can help you win big money.  We all know by now about wild symbols and bonus rounds.  Most players like to play slots with multipliers or many ways the wild symbols change to make winning easier.  Still, there are always new ways to win.
By trying out the newest slots at Springbok, you can see for yourself how much effort our game developer invests in making their new slots as exciting and enticing as the hundreds of slots they have previously put online.
Great Graphics
The modern generation of slots has great graphics so we have come to expect the graphics to improve every month.  Whilst there may be some innovation in graphics, such as 3-D, once a year, the entire idea of great graphics has played a major role in allowing Springbok to offer both instant play and mobile gaming.
Instant Play
This is gaming directly on your internet server.  This means that you don't have to download Springbok to your computer's hard drive.  This saves a lot of important space on your hard drive and, because of the great strides that have been made in graphics in the last ten years, the interface in instant play is just as clear as in the download version.
Mobile Casino
There are still some online casinos that don't offer a mobile alternative to desktop gaming.  At Springbok mobile, our mobile casino takes advantage of every technological breakthrough in computer graphics in the last few years.
Because of the strides that mobile devices have taken coupled with the great graphics now available on mobile platforms, mobile gaming is fast becoming the default gaming platform for an overwhelming majority of players.
If the graphics were as good ten years ago as they are today, we would have seen the mobile revolution in online casino gaming ten years ago.
Today, mobile is far more than an easily accessed pastime for when we are waiting in a queue, flying, or otherwise unable to access our desktop or laptop computer.
The beauty of modern mobile gaming is that it has taken online casino gaming fully into the world of "leisure activity".  We can lounge about with our excellent mobile devices and play casino games, especially the graphics-oriented slots, in the most leisurely positions - I'm thinking cuddled under a nice warm blanket.
A large mobile device makes gaming with one's significant other much more fun than it was when both of you had to sit across from a desktop computer screen.
Money Management
If you follow our advice and play slots primarily for the fun of it, you'll want to play for the most cost-effective price.  That means making minimum bets rather than maximum bets.  Of course, this all depends on the size of your entertainment budget.
You should be sure that the slots you play allow you to bet in accordance with your entertainment budget.  In this sense, it's like going to a restaurant.  You always should know that the cost of a restaurant meals fits your budget.
One little-known fact is that the slots with the higher wagering denominations also have the higher payouts.  This gets us back to the discussion about volatility and it brings that discussion to the discussion about money management.  You might want to receive higher payouts but, if you are true to your financial means, you might have to admit that your budget allows for smaller bets.
Follow the reality of the bet size you can best afford and play the slots with the higher denomination sizes in free play mode.
Bottom Line
The conclusion is that slots are a great way to pass the time; slots have a unique ability to help us enjoy situations vicariously that we could never experience in real life; that we should look for slots that fit our personalities whilst also being flexible enough to sample slots that appear to be outside of our normal selection zone; and that slots can be an excellent way to manage our entertainment budget, primarily if we see slots as basically a fun way to spend some time.