How to Throw an Online Casino Party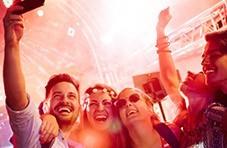 Australians are feel good people.  Aussies also love playing pokies and other casino games.  In this short article, we'll give some ideas for how to run a smashing online casino party from the comfort of your home.  Such a party will replicate all of the best aspects of land based casinos—primarily lights and atmosphere—whilst taking advantage of all the benefits of online casino gaming.
Large Screen
You need to have a large screen or even two strategically placed in your house so many people can see it.  You connect your computer to the screen and access Springbok, the Aussie online casino.
You don't have to download the casino to your computer's hard drive.  Even on a large screen, the graphics in our instant play platform are great.  Our online pokies are simply spectacular on any sized screen but even more so on a big screen.
Play for Charity
Use something other than actual money to play the games.  You can use poker chips, candies, or anything that is plentiful, small, and colourful.  You can play in our free play mode so there is no real risk of any of your guests losing money.
One of the biggest disadvantages of playing at a land based casino is that if you have a bad first session, you might be on a serious downer for the rest of the time you're at the casino.  When you play online for real money, you can always stop and go do any of the many things you need to take care of that day.
So, if you play for charity, you can "charge" people a small amount for 100 "chips" and let the gaming become a real party.  As a party for charity, you can also say in advance that all "proceeds" will go to charity.
We hear the question you're asking: Why is Springbok casino giving advice about an online casino party in which the casino won't make any money?  The answer is simply that if you're playing Springbok casino games, we feel confident that you'll come back to us at a later date, probably soon.  And most players like playing for real money, even for small, manageable stakes.
Décor
Since it's a party, you'll need to set up some kind of décor.  Enlist the help of the most creative people in your bunch and hang homemade dice, string some strobe lights, and put up posters of a roulette wheel, a blackjack table, a Royal Flush at a poker table, and anything else that might give your party that casino atmosphere.
Keep it Simple
Now, you'll start the party out with a short pokies tournament of sorts.  Players will crowd around and someone will choose a pokies game to play in the tournament.  Every player gets a spin and either puts losses in the kitty or takes winnings out of the kitty.
You'll need to be sure that the kitty has thousands of dollars of fake casino coins so if someone hits a big jackpot, he or she will be able to take their "winnings" out of the kitty.
You can organize the pokies choosing method any way you like.  Just remember to keep it simple.  Since we have so many pokies categories at Springbok and there are often many selections within categories, you might choose a category first and then ask for a vote on which pokies to play.
You might be surprised that many players already have their favourite pokies game!
Every tournament round should be short so new players can join and many different pokies get played.
Food and Drink
It's a party so there have to be some food snack items and some good drinks.  One of the biggest problems gamers have at land-based casinos is the free alcohol that flows so….freely.
We always tell our gamers to play before drinking but since this is a party and all proceeds will go to charity, you might loosen up the reins on the beer.  Just make sure that no one gets too drunk.
We recommend having a hand written menu hanging by the kitchen.  The menu doesn't have to resemble anything you're actually serving.  It can be a parody of the kind of descriptions we see in restaurant menus.
We have done a couple of these parties and people really like making their own pizzas.  Your guests will be happy to go in together on a single pizza and you can go wild with toppings in addition to the standard toppings so common everywhere.
We don't mean that you'll make just one pizza—LOL; just that several guests will work on every pizza as it is being put together.  Save the entrée type food for intermission.
Roulette and Craps
At land based casinos, these are the games that generate the most noise.  Land based pokies have bells and whistles galore but roulette and craps have actual people whooping and hollering for good luck on the roll of the dice or the spin of the roulette wheel.
In roulette, we suggest that since it's a party and all proceeds will go to charity anyway that the only bet allowed should be on a single number.  We hope that the neighbors don't mind because as the wheel is turning, even the most devout and quiet blackjack players will be rooting loudly for their number.
Craps players also like to make a lot of noise since it takes a while for the dice to come to a full stop.  These games will turn your party into a happening!
Get Original
There are many aspects of parties that we have not covered here such as dress codes.  Remember to keep it simple and in good cheer. 
One area that you do need to be current on is the many games we have to offer you and your guests.  For instance, you might want a bingo session or a scratch cards session.  You can turn scratch cards into a team sport.  Scratch cards are great fun - especially as a group effort - even though most players play them strictly as a diversion from the games they most enjoy playing.
All in all, an online casino themed party might be a great way to spend a weekend evening with friends and their friends.