Online Gaming is the Safest Gambling By Far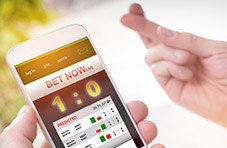 Gambling at an online casino is a great way to pass the time.  You can play for as long or as short as you wish or as your other responsibilities allow.  Online casino gaming has so many advantages over land based casinos that we needn't repeat them all.  Suffice it to say that at an online casino, you have more games, more convenience, higher return to player rates, and no ancillary expenses.
Convenience of Mobile
When you play at an online casino, you can usually also access their mobile casino.  Springbok mobile casino uses the same account as our desktop casino so you can take advantage of every bonus and promotion we offer at either our desktop or our mobile casino.
Mobile gaming is even more comfortable and convenient than desktop gaming.  It seems kind of silly to go to a land based casino and play on their mobile platform, doesn't it?  Mobile gaming at a land-based casino certainly contradicts the basic convenience of mobile.
Absolute Fairness
Online casinos use a Random Number Generator to produce every result of every game.  The RNG, as it is called, is 100% accurate and fair.  No previous spin or hand has any bearing on the next one.  The complete fairness of online casino gaming leads into the subject of this article: Is Sports Betting Fair?
Athletes and Billions of Dollars
We know either from actual evidence or from conjecture and rumour that sports have been subject to scandal especially in the last century and into the present century.
In American baseball, the famous Black Sox from Chicago purposely lost the championship series in 1919 to a far-inferior team because eight players felt that they were severely underpaid by their cheapskate owner.  The players were banned from organized baseball for the rest of their lives.
Rumours swirled around baseball throughout the 1920s and 1930s as players were thought to play less well during some games where professional gamblers had money wagered on the games.  None of these rumours were ever proven true but that didn't stop them from being repeated often.
In the 1980s a great player, Peter Rose, was found to have bet on games that his own team was playing in.  Although he always claimed to have bet for his team to win, he was also banned from professional baseball by the Commissioner of baseball at that time.  The Commissioner, Bart Giamatti, was so overwrought with emotion over the Pete Rose scandal that he succumbed to a heart attack just a few weeks after rendering his decision to ban Rose from baseball.
In the late 1950s, there was a major scandal involving college basketball players in the United States.
Professional Basketball
Worldwide, many billions of dollars are bet on sports events every year.  Professional leagues and organizations in every sport on every continent strive mightily to keep their sport clean and free of any innuendo or rumour that the games are not being played fairly.
That was the thinking behind the law called the Professional and Amateur Sports Protection Act that became law in the United States in 1962.  There were only two problems with that law.  First, the law allowed four states that already had legal sports betting to continue to run their legal sports betting programmes.  Three of the states had very limited sports betting but Nevada, the state where Las Vegas is located, had full sports betting on all sports domestic and foreign.
The second problem with the law came to light only last year as the Supreme Court of the United States struck down the law exactly because it violated the US constitution because it allowed sports betting in some states but not in all.
In addition to these two problems with the law, illegal sports betting flourished in the US.  All professional and amateur sports supported the law but now that they see how much money may come their way from legal sports betting in every state, the leagues and organizations support the repeal of the law and the institution of legal sports betting in every state.
Tim Donaghy
Until just a few years ago, the referees of sports matches were all thought to be above the inducements of big sports betting money.  Then it was revealed that a referee for the National Basketball Association (NBA), Tim Donaghy, had rigged some games for his and others benefit.
A recent article published in the United States explained exactly how Donaghy and his associates managed to rig game outcomes for so long without getting caught.
Online Casinos are 100% Fair
How Tim Donaghy managed to affect the outcomes of so many games as the referee is not the subject of this article.  The subject is to use the scandals that have occurred in sports and will surely reoccur as sports betting grows tremendously in upcoming years, as a way of showing that online casino gaming is almost completely safe from any similar scandal.
Online casinos should be registered, certified, and regulated from proper authorities.  Any casino that is not regulated in this manner is a warning to all online gamers to stay away from that casino.
Many countries are regulating online casinos on their own.  In the United States, online casinos are regulated in the states, not in the central government of Washington.
There is absolutely no incentive for online casinos to try to work around the edges of casino regulations.  If a casino is found to be unfair and untruthful in its operation it will be banned forever.  There are so many online casinos that the market would easily shrug off a casino that had been found to be practicing unfairly vis a vis the gamers.  Therefore, none is likely to risk banishment in order to increase temporarily its profits.
Bottom Line
The end result is that if gamers or gamblers are looking for the absolutely safest place to place their bets, online casinos like Springbok are the perfect gaming venue for them.