R181,997.50 for Ilde H. Christmas Come Early on the Naughty List.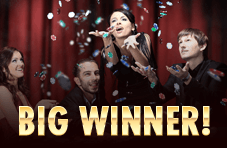 Proof that the Naughty List isn't just a Christmas thing. Being good all year clearly pays off, too. Ilde H. deposited just R150 and walked away with a glorious R181,997.50. The 37-year-old from Durban, South Africa rummaged through a whole stash of glitzy presents on South Africa's Number One Casino 5-slotter to track down the Naughty Notes and get hold of Santastic FREE SPINS.
Now get over there and join Ilde H. and win your own mid-year Christmas treat.
Spin three Naughty Lists to dive into Santa's stocking of glittering presents, pick two Naughty Notes for a higher bonus prize or increase your FREE SPIN prize multiplier up to 600x bet. The Good List is SO last year.
Trigger the Santastic FREE SPINS in the Lucky Feature after any normal spin and dive back into the pile of goodies for even more wins.
Keep your eyes open for the Lucky Feature with 5 to 10 FREE SPINS with up to an amazing 10x multiplier. It really is Christmas come early!
Download and Instant Play and listen out for those jingling bells that might just get you on The Naughty List.