Pirate Isle: Drown in New Game Booty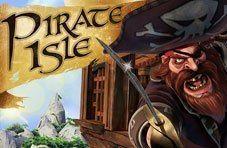 Ahoy! Cap'n Ghost Pirate and his first mate Springbok have hidden their ill-gotten hordes of treasure, riches and plunder on Pirate Isle at South Africa's Number One Casino. But when the scurvy band of no-good bungling blaggards guzzled through their grog, they dropped their Treasure Keys around the isle.
But, by thunder, you can find that booty. Menace and mayhem line ya path, but with ya musket by ya side, those spoils will be yours. Track down all 5 Treasure Keys, and be drowned in booty. 5 Treasure Keys equals 300 FREE GAMES.
Ready yourself for ship-to-ship sea battles and thunderous clashes with the misfit pirates when ya place an extra bet and release the Broadside Feature, home to the Pirate's Treasure Progressive Jackpot.
Keep your eyes peeled for the Treasure Chest Features when 3 or more Treasure Chests blunder their way on to the reels in any normal game. Ya buccaneer's bounty could be in 5 spots on the treasure map – take 5 for yourself. Find a Treasure Chest on the map and ya reward is another pick, a Treasure Map digs up a new round of picks and a Pirate Ghost, terrifying he might be, will grant you 100 FREE SPINS.
This five-reel from Realtime Gaming is heaving with spoils and spins, features and wins, so take to the seas, land lubbers, and prepare to drown in booty.
 Get ya sealegs on and raise the Jolly Roger. Pirate Isle, on download and Instant Play, 'ere we come!