Mermaid Queen Goes Mobile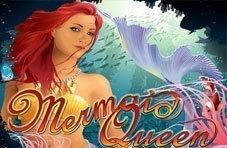 The mysteries and beauty of the deep are now available at Springbok's mobile casino.
The Mermaid Queen and her mystical underlings will lull you beneath the waves with her harp and bewitching airs at South Africa's Number One Casino.
Once in her enchanting queendom, win her favour and she'll reward you handsomely with treasures beyond your wildest dreams. Pluck clams from the ocean bed and watch your prizes multiply, and when the Mermaid Queen graces you with her presence on a winning payline, your reward will be doubled.
Wherever you are, and your phone is with you, stay beneath the waves with the alluring, animated Mermaid Queen. In the FREE GAMES feature, swim near the Clams – they double your luck, giving you another free game each time they appear.
Never forget how easily the Mermaid Queen can summon the delights of the Random Progressive Jackpot at the end of any game.
Get Mermaid Queen on Mobile now or Instant Play and download and dive deep beneath the waves.