DOUBLE WINNER Martha C And Her R137,560 Winnings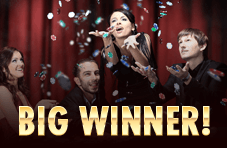 Martha C, 56, from Pretoria North isn't just a winner, she's a DOUBLE WINNER.
She has just Springbokked her life, adding her R137,560 winnings to her September.
Mostly from Voodoo Magic (on download and Instant Play) and this month's Game of the Month, and one of Springbokkers favs, Achilles, (on download, Instant Play AND Mobile), Martha C walked away with staggering amount of money.
Playing the bewitching Voodoo Magic with its Wild Priestess and VooDoo Dolls, Martha C pulled in R27,150.00, and on Achilles, she made R25,500.00. There's no question the Greek god was on her side as she thrashed her way through the Trojan army to take home the riches.
Why not jump on the Achilles bandwagon? There's a R10,000 Freeroll Tournament over there, open to anyone who makes a deposit. You can double your comp points AND South Africa's Number One Casino has added 50 free spins on Achilles using the Coupon Code: GOTM-SEP-SPINS.
When you deposit, add the coupon code GOTM-SEP-15, and get 125% deposit bonus up to R2500 to play Achilles.
It's not like Springbok isn't giving you enough chances to win BIG this September!