Double Double Bonus Poker on Springbok mobile!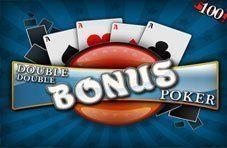 Double Double Bonus Poker is one of the most rewarding video poker games available at Springbok Casino and for those who have tried it on the instant play and downloadable casinos, hold onto your hats because it's coming to mobile! Not only does that mean you get to take not just one bonus, not just a double bonus, but a double double bonus game with you anywhere you need to go, but it also means you could collect huge wins at any time of the day or night and no matter where you happen to be.
In this game, it's the jacks and higher cards that really count, which means you'll need to be a little strategic with which cards you give up and which you hold onto. The bonus round allows you the chance to double your money if you manage to pick a card that is higher in value than the one the dealer picks and there are extra bonus combo payouts should you manage to get certain card combinations.
So what do we love about Double Double Bonus Poker? Well for one thing, there's a top payout of 4 000 coins to be won if you manage to get the highest value card combination (that's the royal flush). In monetary terms, that means a bet of just R5 x 5-coin wager could get you a huge boost of R20 000 into your real money account. Also great is that you can play up to 100 hands at a time when you choose to play the game on the downloadable casino and up to 52 hands at a time if you're on instant play or mobile. That means you could be lining up the wins faster than the dealer can hand out the cards.
What you may be wondering is what your chances really are of winning money in the game; is a win realistic? The answer is yes, and it's as simple as that. With a bet of five credits per hand, allowing you to access the highest payout, the house only has an edge of 1.02%. That's very low, which means your chances of winning are impressive to say the least.
Double Double Bonus Poker is just one in the string of games now available at Springbok Casino for mobile and with slots and table games, not to mention video poker, you'll never have to entertain yourself while you wait in line at the shops, while you wait for your name to be called at a job interview waiting room or even when you're passing time with a quick cup of coffee at the local coffee house. Excitement and entertainment go hand in hand with mobility when it comes to Springbok, which is why we are so excited to add this game to the long list of those already available on mobile.
Why not play today at our mobile casino and see just how rewarding and entertaining it can be to hold and reject cards on this video poker delight?