NEW at Springbok – Lucky 6 slot game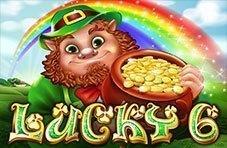 Ready for something new? Looking for more than just five reels? Want to have even more fun at Springbok Casino? Lucky 6 is coming to Springbok Casino and this brand new video slot game from Realtime Gaming is going to impress you! With the release date set at 16 December, a public holiday by the way, this Irish-themed winning extravaganza has a massive six reels and works in a way that is quite unlike any other slot you're played in the past. If you want more free spins, more group wilds, more prizes and much more money waiting to be won, this is the game to play.
The game offers a theme based around leprechauns and the lucky number six, which you may have guessed from the name and the six reels. there are 10 paylines and the first five pay, as most slots do, from left to right while the second set of five (that is, reels six to ten) pay from right to left. Not only does this make the game a lot more exciting, but it ups your chances to taking home the moolah.
Lucky 6 also promises more bonus features than ever before, and the free spin feature for example, could net you a whole lot of cash, not mention grouped wilds, wild reels, extra wilds and multipliers. To access the free spins, you will need to find the scatter, which is not just one symbol. Unlike other games, Lucky 6 really turns up the proverbial volume by allowing you access to the free spins only if you find three of the letters L, U, C, K and Y, or the number 6. This may sound a little complicated, but given that there's a prize stake of 50 000 coins, we're sure you'll have fun searching for the letters and number. Remember that the more of these you f
Three scatters will give you access to the free spins, but here's another great part of playing this brand new game. A four scatter symbol trigger (such as you would get if you found the L, U, C and K, will give you even more wilds and prizes. A five-scatter trigger will up this amount and should you find all of the letters as well as the number six, you're in for some heart-racingly high rewards.
If you want to play but you're worried you won't have the time, know that the game is available on the downloadable casino, instant play casino and on mobile. So if you have a smartphone or a tablet, you can access the Springbok Mobile Casino using your browser and login to your real money account for a shot at that pot of gold.
While we can't promise you a win on every single spin, we can assure you that there is a lot of fun to be had with the release of this great new game and on 16 December, make time for the leprechaun and his Lucky 6. Who knows? You may be the first lucky winner at Springbok Casino to take home the jackpot.