Biggest ever Springbok Casino bonus on Leap Day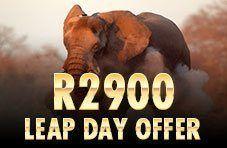 How does R2 900 sound to you? If you like the clink of that chunk of change, you will love this, because on 29 February, Springbok Casino is celebrating that we have one more day of potential wins in the year with the biggest ever bonus for our players. We're not kidding – this is the biggest bonus you're going to get on any of the 366 days in this year and we've got the codes and the instructions you need to help you access all of that magical moolah!
Why a Springbok Leap Day bonus?
Besides the very obvious pun we'd love to make here about Springbok's and leaping (get it?), we also know that 29 February is a pretty special day, specifically because it only comes around once every four years. Believe it or not, there's a lot of superstition attached to the day, including that it is the one day of the year on which women can ask men to marry them. Of course, we're not living in the 1950s anymore and we know that a marriage proposal from a man or a woman is a wonderful occurrence on any day of the year. You may have a couple of beliefs of your own for the day, and if you believe as so many do that it's a lucky, this amazing bonus will only reinforce that faith.
Everything you need to know about the Springbok Leap Day bonus
In order to claim this bonus you're going to need to know a couple of things. First off, it's a bonus of R2 900, which you can claim no matter how big or small your bonuses have been in the week preceding the day. Second (as you might have guessed), is that you will need to make some kind of deposit between 22 and 29 February 2016 in order to qualify. Finally, the one you've all be waiting for, the code: FEB29-FREE. Now, before you go rushing off to claim those big bucks, remember that this one is only for leap day so as long as you make a deposit on the dates mentioned above, you can use the code at the cashier on 29 February 2016 only. And once you've done that, you'll watch your real money account balance swell more than your beaming smile at the thought of that free cash. 
There are a few terms and conditions we need to tell you about too. The first is that the bonus can only be used on slot games, of which we have hundreds for you to choose from. Next, you have to wager at least 60 times before submitting for any kind of withdrawal, which we hopes happens because luck was on your side and you won. And finally, there is a maximum withdrawal amount of R3 500 (and frankly, we're really hoping you're one of the lucky ones who get it).