Truck Drivers Stop to Help Thirsty Baby Elephant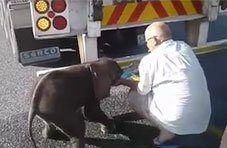 About a month ago, some truck drivers on their way through Botswana got surprised by a baby elephant popping out of the bushes by the road. Having stopped, they've cautiously approached the tiny creature and realised she was very thirsty.
There was no mum nor herd in sight, so after giving her some water from their own bottles, these softhearted guys have loaded the 3-week old into their truck and took her to Elephant Sands and the Water for Elephants Trust.
They tell us she was so thirsty that she drank almost 30 litres of water! Thanks to the helpful drivers, we can take comfort knowing that even if she has lost her mum at such a young age, the baby elephant is now in good hands. 
Conservation Efforts in Botswana
Home to an amazing range of wildlife and the largest elephant population in the region, Botswana is well-known for their wildlife conservation efforts. The aforementioned Water for Elephants Trust was set up with an aim to rebuild water holes for Africa's largest elephant herds. After receiving the abandoned little elephant, their staff has transferred her to Elephants Without Borders, a charitable organisation which is dedicated to conserving wildlife and natural resources. Based in Kazungula, Botswana, EWB operates in the southern Africa region. This non-profit organisation studies elephants' migratory patterns, their behaviour and ecology, sharing the results with local communities and decision makers and thus allowing for securing key habitats and migratory corridors. Collaborating with the Department of Wildlife & National Parks, EWB also provides fast, on-the-spot treatment to wild animals in distress.
The little hitchhiker picked up by the road in Botswana is now in the capable hands of EWB's staff. It's been reported she's doing very well, but owing to the fragility of baby elephants, and not knowing how long she's been wondering around all alone, it's still a long way before we can say she's fully recovered. 
Elephants in Danger
We're facing a bit of a paradox when it comes to the elephant population in Africa. While many of the African countries experience a rapid decline, others are struggling to cope with the increasing elephant numbers. But the harsh reality is that the population of these large animals has plummeted during the recent years, as the result of poaching for ivory and habitat loss. While thankfully there are many projects in place aimed at protecting the elephants and other wildlife, there's still a need for extra hands on board. We might be able to contribute by working directly with one of the conservation organisations and facilities set up to provide the necessary protection. We could alternatively help by offering a modest donation, or even by simply spreading the word. It doesn't matter how one contributes, as long as they do. Every little bit helps, and we're sure you'll enjoy knowing you have helped find the wild animals their place in the sun.