Fundimvelo Thula Thula Rhino Orphanage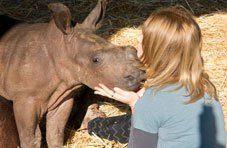 Rhinos in South Africa are increasingly endangered due to poachers who are after their horns. As they're getting more and more aggressive, protecting each and every rhino is important in order to safeguard the species. Thankfully, people and organisations have recognised this need and responded adequately.
The Fundimvelo Thula Thula Rhino Orphanage (FTTRO) was the first purpose-built rhino orphanage in South Africa's KwaZulu-Natal.  It's run by the non-profit Lawrence Anthony Earth Organization (LAEO), with members from all walks of life, different cultures, races and religions. One thing they have in common is the motivation to make our planet a place where all life flourishes and prospers. As Lawrence Anthony himself says: "Unless we can allow not only elephants, but all the wild animals their place in the sun, we can never be whole ourselves".
The Birth of Thula Thula Rhino Orphanage
An incident in 2001 has convinced Anthony and his team that there was an immediate need to build a dedicated rhino orphanage. That year, two orphaned rhinos by the names of Thabo and Ntombi were rescued and brought to Thula Thula for initial care. Having been lovingly raised by dedicated staff members, the pair was successfully released to enjoy their natural habitat in the reserve. But getting to this happy end was not plain sailing. One night poachers have struck and, though their attempt was fortunately unsuccessful, poor Thabo got shot in his leg and the subsequent recovery took as long as a year. It was this experience which initiated the project of the Fundimvelo Thula Thula Rhino Orphanage. It took several years to complete, and the Orphanage was able to finally open its door in December 2014.
Saving Rhinos' Lives
When born, a rhino calf has no horn and is completely dependent on its mother for food and protection. It suckles up to being 18 months old, so losing its mum during this period will likely have a deadly outcome, unless the little rhino receives help. The harsh reality is that there are still not enough facilities in South Africa to ensure all of these little brave things will be saved. To give them a fighting chance, a partnership was struck between LAEO, Thula Thula Private Game Reserve and the local communities, resulting in a unique care facility which provides specialist care and nurtures the rhinos physically, mentally and emotionally. Their final goal is to make them strong enough to release them back into the wild, thus supporting the survival of the species.
The Fight for Life Continues
Even today, FTTRO and its inhabitants don't live in complete safety. Only a month or so ago, the Orphanage  was savagely attacked by poachers who have managed to assault their staff and poach two rhinos, Gugu and Impy. Poaching in South Africa is becoming increasingly violent and frequently targets facilities set up to support rhino population. In view of such events, we can't but admire the brave individuals, both employees as the volunteers, who unselfishly dedicate their lives to helping these magnificent creatures.
During the aforementioned assault, a staff member Nicole Venter has demonstrated impressive bravery and love for their protégées. Held at gun point, she has successfully negotiated with the poachers to prevent them from shooting Duma and escorting the German shepherd to a safety of another room. Thanks to her, Duma is today still running around with his favourite blanket in tow, chasing beetles and looking after his rhino friends. If you've read our stories about the unusual animal friendships, you'll know that it was Duma that has extended a helping hand (or rather a paw) to an abandoned baby elephant named Ellie. When she was brought to Thula Thula Orphanage, Ellie was in a bad shape, sad and depressed. The German shepherd has provided the support she was missing from her herd, having a crucial role in her recovery.
Extend  a Helping Hand
People around the world join their battle by providing necessary donations, such as those which have contributed to The Thula Thula Rhino Fund and their Indiegogo emergency campaign. Funds raised are being used to provide specialised security for the Orphanage and anti-poaching unit. If we can't physically join the brave men and women working in the FTTRO, there are other ways to support them in their efforts. And the least we can do is raise awareness of an imminent danger our wild animal friends face today.