Ex-Orphan Brings Her Baby To Meet Her Former Human Family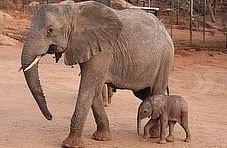 Can you imagine the surprise of the David Sheldrick Wildlife Trust members, as they saw one of their old protégées come back, tiny baby in tow? This is what happened in Kenya in October 2015, as a Trust-raised elephant named Wendi paid a visit to people who've 13 years earlier saved her life.
Tiny Baby Elephant Miraculously Recovers
Wendi was found by DSWT in 2002, all alone in a swamp near Imenti Forest, her herd having escaped most probably due to human disturbance. It's quite likely that this has happened while her mum was giving birth, because Wendi was tiny when rescued, with an intact and moist umbilical cord, soft black hair and a tiny trunk. As rescuers were not sure if she had managed to get her mum's first milk which contains the necessary antibodies, they fed her powdered Colostrum in her first milk bottles. The little orphan was named Wendi, which means "hope" in the Meru tribal dialect.
Being so young when she was found, Wendi didn't suffer the psychological trauma typical for older orphaned calves. Knowledgeable DSWT team knew how to care for her and have provided a loving and caring adopted family to the little elephant. Thanks to their expertise and dedication, baby Wendi experienced a truly miraculous recovery and was later on reintegrated with a herd  in Kenya's Tsavo National Parks.
Wendi Forms a Family of Her Own
"The elephants have a strong bond with their Keepers that rarely changes after birth," says a member of DSWT team, and Wendi proves how true this is. Today she's a mum herself, and the first thing she did after giving birth to a baby girl, was to pay a visit to her adopted human family. Only hours after it was born, Wendi presented the calf to DSWT and made the team feel like a proud family. We could just imagine her saying: "See what a great job you guys did! Thanks to your love and care, now I get to be a mum and care for my own young."
We have no doubt that numerous successful rescue efforts undertaken by the DSWT create a huge sense of accomplishment among the team members, but this kind of acknowledgment of their work surely takes it a wholly different level.
The name they've given this new mum 13 years ago signified their hope that there would be a ban on the sale of ivory, bringing hope for the survival of elephants. It meant hope that one day a safe corridor to Mount Kenya forests would be created, allowing Imenti elephants to reunite with lost friends. And it meant hope that little Wendi would survive. As we now know, the tough baby elephant has not only grown to be a strong, healthy and beautiful animal, but has also given her own contribution to the survival of the species. A proud and hopeful moment for everybody involved.