Tiny Baby Hippo Finds New Family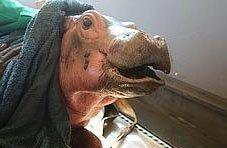 In December last year, an orphaned baby hippo was observed from the air. Trapped in a drying pond in the remote Kiunga Forest on the north coast of Kenya, it was clear that without intervention it would not survive. The area where the baby was stuck is fairly remote and saving it has presented quite a challenge. 
Rescuers from the David Sheldrick Wildlife Trust (DSWT) and the Kenya Wildlife Service (KWS) had to fly in by plane and helicopter and get knee-deep in mud in order to capture it. They've wrapped the little hippo in  blankets and had it flown to the Tsavo National Park, where it was to be raised by the Trust's Field Team who had plenty of experience in raising orphans of different species. Well-organised efforts have made the entire rescue possible in as little as 45 minutes!
The Trust's Kaluku Field Headquarter is 3 km away from the Athi River, which is home to numerous wild hippos. Hopefully, once fully recovered and off milk, the rescued baby would make friends with them and eventually join the members of its own species. 
Baby Hippo Finds New Family
Having joined DSWT family, baby named Humphrey found a new mum: Field Operations Manager called Frans. With the help of his team members, Frans has unwrapped the hippo and hosed him down. The calf was sunburned and clearly very dehydrated, so they fed him rehydration fluids and milk.  Humphrey spent the first night at his new home under a running shower to keep moist.
Soon after, it was discovered that Humphrey is in fact a girl and not a boy, but she has already grown accustomed to the name the rescuers gave her. Adjustments were made, and Humphrey became Humphretta, or Humpty for short. A large customised pool was prepared for her over the following period, big enough to accommodate Humphretta even when she became an adult, and the surrounding beach and soft river sand have made her reluctant to leave the pond even at night. That is, until she sees her "mum" Frans walk to his bedroom, which is when she'll sit outside and cry to be let in. Then she'll lie next to Frans' bed and suckle his fingers until falling asleep. And what a heartwarming picture that is!
The David Sheldrick Wildlife Trust
Founded in 1977 by Dr. Dame Daphne Sheldrick, the DSWT has grown to be the most successful orphan-elephant rescue and rehabilitation program in the world.  Their globally acclaimed Orphans' Project has achieved huge success with numerous rescue and rehabilitation efforts involving Kenya's threatened elephant and rhino population, endangered by poaching for ivory and horn, as well as the loss of habitat caused by us humans.  To date the organisation has successfully hand-raised over 150 infant elephants and effectively reintegrated orphans back into the wild herds of Tsavo.
We have no doubt Humpty will be another one of their successes. While she loves being around mum Frans and the rest of her DSWT family, the goal is to raise a healthy young and reunite her with the members of her own species, which is where she belongs.