Halloween-Inspired Movies: House of 1,000 Corpses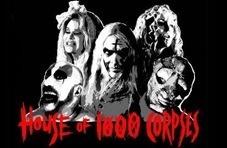 House of 1,000 Corpses is another one of the movies which have received their share of negative critics but also managed to build a cult following. It features Firefly family, members of which are played by Sid Haig, Bill Moseley, Sheri Moon and Karen Black. You'll first meet two teen couples who, having learned about the legend of Dr. Satan, go out to search for the tree from which the doctor from hell was hanged.
Picking a hitchhiker on the way proves to be a bad idea, as it's one of the Fireflies who stages an accident and takes the group to their family home. There they will be treated to dinner and allegedly get their car fixed, only to be attacked, imprisoned and tortured by spooky family members. One of the guests gets killed and his body mutilated for art, another is scalped, the third is tied in a barn, and the fourth, in a Halloween costume, strapped to a bed.
Having their own families raise alarm, police goes out to find the teens and discovers their abandoned car with a body in the trunk. Trying to question members of the Firefly family gets them all killed, as you'd expect. The same night three remaining prisoners are taken to an abandoned well dressed as rabbits, and while one is killed almost immediately, the other two are lowered into the well where they meet the undead, Dr. Satan and a bunch of his mental patients. The poor guy gets caught first and vivisected, while the girl who appears to have successfully escaped, wakes up strapped to the operating table with the creepy doctor standing by. Yes, that's right, no happy ending there for any of the victims.
While this movie was said to be influenced by famous horrors The Texas Chain Saw Massacre and The Hills Have Eyes, the idea was born while creating a haunted house attraction of the same name. Can you imagine visiting it after you've seen the film? Not for the faint-hearted, that's for sure.