Halloween-Inspired Movies: Scary Movie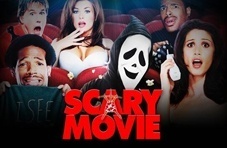 Not all Halloween-inspired movies are scary, even if that's what they're called. A parody of slasher genre, this one features scenes like that of Drew, an 18-year-old girl who receives a threatening call at home and gets chased by Ghostface who then stabs her in the breast and takes out a silicone implant. Having been hit by her father's car, Drew is eventually killed by her stalker.
The following day, Cindy and a group of friends meet up at school where a bunch of reporters have come to cover the story of Drew's murder. Cindy receives a note saying "I Know What You Did Last Halloween", reminding her of a wild ride accident which happened exactly one year ago and got a man killed.
What follows is a series of attacks, threatening calls and a false arrest before the identity of the murderer gets revealed. In meantime, you'll be enjoying other "scary" scenes such as the one in which girl gets beheaded by Ghostface and her still-living head dumped into a Lost and Found bin. You'll also see friends stabbing each other because their favourite show got cancelled, one of the girls killed by movie patrons angry with her rude behaviour during the film, and Cindy using moves from The Matrix to fight Ghostace and launch him through a window.
Scary Movie in fact makes numerous references to other horror films such as Scream and I Know What You Did Last Summer, and being quite crude and gross, it will either see you laughing through to the end or turning the TV off 5 minutes in.