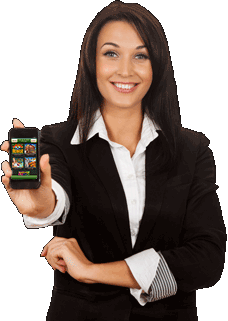 Springbok Casino Blackberry Mobile Version
We want our respected South African customers to be able to access a variety of mobile casino games featured in our offer, on a number of handheld devices- including the Blackberry. Being one of the original smartphones, Blackberry may no longer be as globally popular as it was at one point, but it still retains considerable popularity in certain parts of the world, namely South Africa. With that being said, we would be silly not make our casino offer available to die hard Blackberry users! It is an interesting thing – the Blackberry smartphone. What was initially supposed to be a handy gadget for conducting business, eventually became a leading device used for gaming and getting away from workday stress, who would have thought?
There are hundreds of loyal Blackberry users who wouldn't dream of switching to another brand, and their consistency should be awarded with the possibility to access their favourite casino games on their preferred mobile device. Here at Springbok Casino we acknowledge the needs of Blackberry users and offer them a Blackberry-compatible mobile casino platform.
Playing Springbok Casino Games on a Blackberry Phone
Since most of the games and interactions related to them, found here at Springbok Casino are compatible with the soft- and hardware aspects of the majority of Blackberry devices, you'll find placing wagers and using additional services at Springbok quite accommodating. We've aware that some casinos offer Blackberry-oriented apps, but the fact is that these apps will take up your precious phone memory and require an installation. Instead, we've opted for making Springbok Casino fully playable on Blackberrys with an instant-play mode, accessible from a regular web browser. Since over 150 games are done with Java and advanced Flash technology, you'll have no problem entering the mobile version of Springbok Casino.
If you already maintain an account and you've played in desktop mode up until now, but you want to switch to mobile – by all means, go for it. Your account will still be active when accessing it from a Blackberry gadget. All you have to do is log in with your usual user ID and password to regain your personalised settings and entryway to the (slightly adjusted) casino lobby. If not, you'll need to undergo the regular registration process, which takes only a couple of minutes. You'll be able to make deposits in ZAR, in pursuit of all the games you're interested in, be it slots, video poker, or table games.
The ability to use local ZAR currency will save you from hefty fees and unpleasant conversion rates. Springbok Casino, being a SA Blackberry casino, enhances convenience by offering an impressive range of games, deposit methods and support options for a resonant casino experience on the go.
Advantages of Playing Casino Games on Your Blackberry Device
Regardless of having a Playbook Blackberry tablet or one of the Blackberry smartphones (Bold, Pearl, etc.), there are numerous benefits which stem from using the Springbok Casino mobile version of the website.
Convenience – The flexible usability of our mobile casino is one of its major advantages. By choosing Springbok Casino on your Blackberry handset you'll be able to make the best of it while being away from your desk. The pocket-size device adapts perfectly to a busy-bee lifestyle, and so does Springbok Casino.
Security – With the help of contemporary encryption protocols, Springbok Casino, even in mobile form, will keep your sensitive data out of reach to unauthorised third parties. Your financial transactions and personal info will stay right where they need to.
Casino Lobby – True, the desktop collection includes double the titles showcased in the mobile version, but you won't find any of the most popular and satisfying titles to be missing from the mobile platform.
Reliable Customer Care – When it comes to software, one never knows when he/she might need a helping hand. Even on mobile, Springbok Casino offers South African Blackberry users a Live Chat contact option for any concerns or doubts they might have during gameplay.
Officiated Software Packages – Constantly tested and properly regulated, the software solutions housed at Springbok Casino are deemed perfectly fair and are recommended from an auditor's point of view.
Blackberry Springbok Casino Games
Clicking on the 'Go to Mobile Version' button will allow you access to around 150 gaming items on the Springbok Casino web-based platform, which are optimised for mobile and therefore, Blackberry's too. The games are divided into several groups for easier navigation – Slots, New Games, Table Games, Specialty, Video Poker and Progressives. Pick Slots, for example, and you'll be able to additionally narrow down your selection by choosing 5-reel or 3-reel slots exclusively. The video poker assortment is the next biggest category, and we highly recommend it. Of course, if you already know what you want to do at Springbok Casino , don't mind us – log in with your beloved Blackberry and get ready to play away!