HALLOWEEN TREASURES LAUNCHES OCTOBER 9 AT SPRINBOK CASINO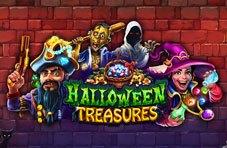 26 September, 2019: Johannesburg, South Africa – In celebration of all things piratical and spooky this October, SpringbokCasino.co.za, South Africa's favourite online casino, presents Halloween Treasures, a game that will shiver more than just your timbers – it will chill you to the very core.  
Halloween Treasures is a 243-All-Ways-Pays slot, chock full of multipliers, free spins and an interactive jackpot game that promises a big-money grand prize -- all wrapped up with some ghostly pirates and a spookily funky soundtrack. 
What more could you want? How about a $5,000 jackpot? That's one of four jackpots prizes available during the Halloween Jackpot Feature. 
When this feature is triggered, 12 magical coins -- or 'pieces of eight', in pirate language -- will appear on the screen. Touching a coin will reveal the face of a spooky pirate, with each pirate symbol representing each the of the three jackpots. 
When three matching symbols have been revealed, the corresponding jackpot will be awarded. There's the $5,000 Grand Prize, the $1,000 Major Prize, the $250 Minor Prize and the $50 Mini Prize. The good news is, once you hit the Halloween Jackpot feature, you're guaranteed a jackpot – there's no going home with nothing. 
Halloween Treasures will launch at Springbok Casino on October 9th. In the meantime, you can check out some of the features &feature=youtu.be">here. 
Springbok Casino Manager, Daniel Van Wyke, said: "We just know you're going to love this seasonal spine-tingler. And the best thing is, it can be played anywhere and everywhere, via download, instant play, mobile or native app. The hunt for Halloween Treasures in a fun-filled adventure, loaded with jackpots and ways to win."