South African Casino Shares Cool Facts about Giraffes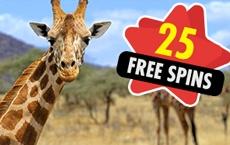 May 1, 2020 Johannesburg, South Africa (Press Release) – Giraffes are one of the most extraordinary creatures on our planet and, according to Springbok Casino, they're just plain cool. This month the South African casino pays tribute to the tall spotted herbivores -- one of the country's most iconic creatures – with a compilation of cool facts and heartwarming videos about the unique and majestic animals.
"Everyone knows giraffe's have the longest necks – up to 180 centimetres – but did you know they have a 50-pound heart and that their tongues are 20 inches long?!" marvelled Springbok Casino manager, Daniel van Wyke. "But they have the shortest sleeps, usually only 30 minutes in total in five or six minute naps. Standing up!"
Funny videos on the casino's Cool Facts About Giraffe's page include one where giraffes enjoy breakfast at Giraffe Hotel. In another, a giraffe walks casually through a South African Restaurant. In one of the most heartwarming videos, a cheeky little orphaned giraffe is watched over by his friend, Hunter the dog. Perhaps the funniest video is one that shows tall, lanky giraffes bending over to drink.
More cool facts about giraffes as well as a collection of giraffe videos can be found at: https://www.springbokcasino.co.za/giraffes.
This month Springbok is giving all players 25 free spins on its whimsical new Magic Mushroom slot game from Realtime Gaming which made its debut just before Christmas.
MAY FREE SPINS

25 Free Spins on Magic Mushroom
Coupon Code: GIRAFFES
Available until May 31, 2019
Magic Mushroom is an enchanting new three-reel slot with adorable forest folk and sticky Expanding Wilds that can result in Mega Wins. The Re-spin feature is triggered when 3 wilds stack up on the middle reel. It remains expanded on the middle reel for the free spin. Springbok Casino is the best place for South Africans to play real money online casino games. All slots and table games are played in Rands and players can speak with customer service in their choice of Afrikaans or English.