Frog Fortunes jumps into the Springbok Casino game lobby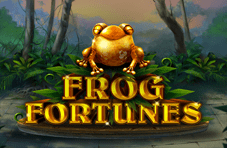 Johannesburg, South Africa: 21 September 2020 – Players at South Africa's favourite online casino, Springbok Casino, are being taken to the heart of the rainforest in search of a mystical frog that has the power to grant them incredible riches. 
Frog Fortunes is the latest launch from Realtime Gaming and combines normal reels with cascading reels and exploding symbols to deliver an exciting and entertaining player experience with 243 different ways to win with every spin. 
Exploding Symbols can land at random at any time, erupting with a random blast pattern (there are ten in total) that covers several reels and symbols. Each symbol caught up in the blast, including other Exploding Symbols, is then changed for another randomly selected symbol. 
Once the symbols have been changed, the reels then cascade if there are any winnings after the explosion. Winning symbols disappear leaving empty spaces that are then filled with new symbols to potentially award extra wins. 
The big win potential is delivering through a slot that is visually striking thanks to the stunning graphics and illustrations created by the Realtime Gaming team. This is complemented with authentic sounds that make players feel like they are wagering surrounded by trees and animals. 
Frog Fortunes launches at Springbok Casino on 28 October and can be played via download, instant play, mobile browser and native app, with the same big-win potential offered regardless of the platform you play from. 
Springbok Casino Manager, Daniel Van Wyke, said: "The rainforest can be a frightening place to be, but with a golden frog helping them through the undergrowth players can not only survive but also seek out plenty of big wins as they make their way through to the clearing. 
"Frog Fortunes combines normal reels with Exploding Symbols and Cascading Reels to deliver a truly thrilling experience to players with every spin, and with a max win potential of 150x their original stake they can potentially leave the rainforest with a small fortune of their own."