Springbok Casino Salutes Movies Filmed in South Africa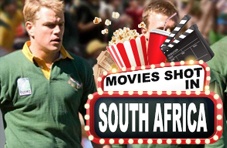 October 1, 2020 Johannesburg, South Africa (Press Release) – With its beautiful scenery, great weather, modern cities and homegrown movie industry, many big budget Hollywood movies have been shot in South Africa.  This month, Springbok Casino has published a feature on blockbusters shot in South Africa: Movies and the South African Connection. 
"Our landscapes and cities have posed as all kinds of locations, but South Africans aren't fooled," said Springbok Casino manager, Daniel Van Wyke. "We know Capetown when we see it!"Avengers: Age of Ultron, starring Robert Downey Jnr, Scarlett Johannson and Samuel L. Jackson, is one of the biggest budget films ever shot in South Africa. Film crews spent two weeks in Johannesburg shooting action sequences for the $365 million film.
 Blood Diamond, starring Leonardo Di Caprio, is a fictional thriller, based on the reality of diamonds being mined in Africa to fund factional wars. 
Directed by South African Neill Blomkamp, District 9 is a dystopian science fiction thriller about extraterrestrials who land in Johannesburg. 
In Homeland: Season 4, Cape Town stands in for Islamabad, Washington and Tel Aviv. 
Directed by Clint Eastwood, Invictus tells the story of how the 1995 Rugby World Cup, hosted and won by South Africa, united the country. 
The wasteland desert scenes in Mad Max: Fury Road were mostly filmed in the Namib Desert. 
Nelson Mandela played a small cameo in director Spike Lee's biopic of Malcolm X. 
Except for Lord Croft's manor house, all the scenes from Roar Uthaug's Tomb Raider were filmed in Cape Town. 
Video clips from these and other movies shot in South Africa can be viewed at:
https://www.springbokcasino.co.za/movies-shot-in-south-africa
Until the end of September, Springbok players can take 25 free spins on one of the casino's most popular slot games, T-Rex 2. 
OCTOBER FREE SPINS 
25 Free Spins on new T-Rex 2
Coupon Code: MOVIES
Available until October 31, 2020 
T-Rex 2 is even wilder than the original T-Rex game and has some great new features like Terror Wilds and Dinosaur Eggs that trigger up to 100 free spins. 
South Africa's favourite place to play real money online casino games, Springbok Casino has hundreds of slots and table games from Realtime Gaming. They're all played in Rands and customer service is available in Afrikaans and English.