The Best Surf spots in the World
Details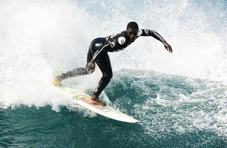 The South African nation is privileged when it comes to watersports, surfing in particular. The country's magical coastline and legendary waves contribute to maintaining some of the best surfing spots in the world. South African surfers are passionate; they devote a lot of time and energy to ride the tide and impress the audience back on the beach. The SA part of the African coastline is pounded with 2,000 kilometres of waves, which influenced surfing to become an integral part of the South African culture and social life. Popular surf spots are frequented from early morning until sundown by both old and young surfers, competing at picking out the best wave of the day. The excellent surf conditions in SA enable a number of local and internationally rated surf contests to take place annually.
History of Surfing in SA and Famous Surfers
Although it is believed that surfing in SA began in the 1940s in Durban, there are records of surfing activities over a decade prior. The Durban Surf and Life Saving Club was founded in 1927, and the Pirates Surf and Life Saving Club was established in 1928. Stand up surfing came into practice after the Empire Games in Sydney, Australia in 1938.
The South African Surfing Association was formed in 1965. The governing body for the sport of surfing in South Africa is Surfing South Africa (SSA), also formed in 1965. SSA regulates all aspects of surfing in the country, from entry-level (development of youth and junior surfing) to the elite level (Pro Surf Tour). The first surfing competition in South Africa took place at Bay of Plenty Beach in Durban in 1969, and it was called The Gunston 500.
Famous and successful surfers from South Africa are Grant 'Twiggy' Baker (a 2-time winner of the Mavericks Invitational), Chris Bertish (won the 2009/10 Mavericks Surf Contest), Sean Holmes (won Red Bull's Big Wave Africa in 2000), Martin 'Pottz' Potter (claimed 6 tour victories from 25 events, performed technically high-risk moves, like aerials and 360's) and Jordan Michael 'Jordy' Smith (won the 2010 and 2011 Billabong J-Bay competitions, competes on the World Championship Tour).
Important Events
Mr Price Pro or Ballito Pro is the competition that replaced the Gunston 500. It takes place annually in June-July in Ballito.
Billabong Pro takes place in July at Jeffrey's Bay, Eastern Cape. Jeffrey's Bay is a world-renowned surfing spot and a legendary right-hand break. Jordy Smith and other top-ranked professional surfers have competed at the Billabong Pro.
Summer Olympics: Surfing will be introduced at the Summer Olympics in the 2020 Summer Olympics in Tokyo, Japan. Jordy Smith is often mentioned as a potential participant from South Africa. There will be 20 women and 20 men competing in Chiba, Japan.
Fun Surfing Facts
Bruce Brown's documentary film 'The Endless Summer', released in 1966, introduced the world to some of the greatest surf spots on earth, located in South Africa. It depicts the waves around the magnificent South African coastline.
Chris Bertish competed at the 2009/10 Mavericks Surf Contest and won the $50,000 big-wave surf competition. There were 50,000 spectators, and the waves were over 40 ft (12 m) high. Everything turned out perfect for Bertish considering the fact that he arrived at the competition without his equipment and had to borrow a board to be able to compete.