Cederberg Mountains - just beautiful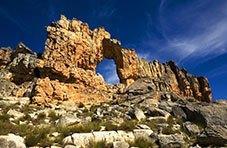 Taking a virtual journey across South Africa, we've already visited many of its natural beauties and culturally rich locations. Now we're getting ready to climb the Cederberg mountains, located near Clanwilliam, about 300 km north of Cape Town. The mountain was named after the endangered Clanwilliam cedar which is endemic to this area. This unspoilt paradise is part of the Cape Floral Kingdom, offers a fascinating botanical diversity and is the place where rooibos tea is being cultivated among  the dramatic rock formations. 
Diverse Flora and Fauna
Ranging from Mediterranean fynbos in south and west, landscape of Cederberg mountains reveals semi-desert scrub in the north and east. Apart from the Clanwilliam cedar, the mountain is home to another endangered plant, the Snow protea, which is also endemic to the area. This tough mountain shrub can withstand impressive temperature extremes and survive being covered by snow for weeks. Its striking flowers take a full year to open.
Fossils of primitive fish, dating back 450 million years, have been recently discovered in the layers of shale the reddish sandstone rock formations contain. Their threatened or vulnerable relatives which can be found today include Clanwilliam yellowfish, named after the golden-yellow males turn in the breeding season, redfin and sawfin. Felids leopard and nocturnal Caracal are some of the predators roaming the same area.
Thanks to the exceptional beauty of the landscapes and plants, as well as the amazing rock formations, Cederberg mountains boast some of the most scenic trails in the world. The beauty of this place can be enjoyed in a number of different ways – taking solitary walks in the mountains, bouldering and climbing, observing the rich bird life, surfing in the sea or taking a dip in the crystal-clear mountain rock pools. All-year-round clear skies and its own observatory make this a premium site for sky-watching. Dramatic wind-carved sandstone formations not to be missed include the Maltese Cross,  a monolith which stands as high as a 5-storey building, and the impressive free-standing Wolfberg Arch.
The Wealth of History
Cederberg mountains are also noted for San rock art which is to be found in caves and overhangs, standing as a marvellous legacy of the earliest human inhabitants . The San were the original people in South Africa who remained here after the rest of us traveled north to other continents. The art on the Sevilla Rock Art Trail is judged to be 8,000 and 800 years old, its longest-surviving specimens 3 times older than the Egyptian pyramids. Paintings depict animal scenes and humans hunting or gathering food. It is assumed that some of the animals had symbolic meaning in the San religion, and images of half-animal and half-human figures to be representing an entrance into a trance state, or the spirit world.
A wealth of history is waiting to be discovered in two missionary villages, Wupperthal and Elandskloof. The first has been a Moravian mission station since 1865, the small town founded by two German missionaries who have arrived to the Cape some years earlier, spreading the Word among indigenous people. Walking into Wupperthal  these days, you'll be met by a sight of little whitewashed cottages and a surprising level of activities which include drying of tobacco and manual production of velskoene, soft leather shoes worn by farmers. If you visit during the Christmas period, you'll find mountains echoing with carols being sung by people of this lovely little town. Some years after Wupperthal was established, satellite stations sprung up in the area. One of these was Heuningvlei, a village that seems to be frozen in time and giving you a feel of having been transported back to  the 19th century. Overall, timeless is a good word to describe this whole beautiful area.
As you witness magnificent purple and orange sunset giving a surreal feel to the fantastic rock formations, and inhale the air filled with scent of orange blossoms, the raw and dramatic beauty of Cederberg mountains will touch your heart, never to be forgotten.