Hidden beaches at Llandudno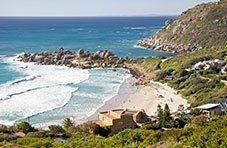 Driving south from Cape Town along the Atlantic Seaboard, only 18 km from the city centre you'll find the Mother City's most beautiful and most secluded beach. The Twelve Apostles guarding it from the left and Little Lion's Head and the Karbonkelberg Mountain towering on the right, a peaceful crescent cove with white sand provides the most beautiful beach setting. The beach was named after the North Wales seaside resort, apparently due to striking similarities between the bay in which it nestles and Llandudno in Wales.
Llandudno beach can be accessed by one road only, a narrow one winding its way down through the exclusive Llandudno neighbourhood and offering a magnificent view of the soft blue skies meeting the crisp blue waters of the Atlantic Ocean. The unspoilt beach lies flanked by large granite formations and boulders stretching out into the ocean, home to a sunken oil tanker whose stern you'll see perched on the rocks few hundred meters away from the shore. It serves as a warning of stormy waters responsible for wrecking many ships, which is why mariners have dubbed this the Cape of Storms.

The waves, however, make the bay a popular surfing spot. If you're brave enough, you might also venture to take a dip in the refreshingly cold water. If not, don't worry. You'll get an equal amount of enjoyment just tossing off your shoes and burring your feet into the soft white sand, while indulging in treats offered by your picnic basket. Seeing a late summer afternoon waving the sun goodbye as it sets over the ocean, is a truly stunning view.
A 20-minute walk from Sunset Rocks will take you to Sandy Bay, a popular beach for nudists. Here you'll also get to enjoy sunbathing on the beautiful white sand and surfing the large waves, as jagged peaks of the Twelve Apostles stand watching over. Taking a 5-minute drive over the mountain pass brings you to the village of Hout Bay, the port to rich marine life. It's famous for a big wave known as "Dungeons", one of 16 big wave spots in the world.

Loved equally by South Africans and the tourists travelling through our beautiful country,  Llandudno beach is not be missed by any first-time visitor. Its white sand, crisp blue waters and dramatic boulders make it not only a perfect spot for a day of leisure, but also one of the most photogenic beaches in Cape Town.