Vodacom Bulls team up with Captain America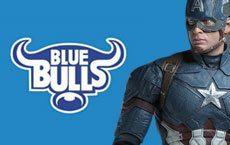 The Vodacom Bulls will adopt a distinct Marvel look that will bring to life the iconic character of Captain America. Even though the kit designs haven't been revealed yet, the fans are super excited to see how will they turn out and will the team rise up to the challenge and make the Cap proud.
As people know them today, the Bulls formed in 1997. They have been the most successful South African franchise in Vodacom Super Rugby tournament. They've reached the finals three times and won. Now we're about to see how the Bulls keep up with the honour and spirit of Captain America in an upcoming story on and off the pitch.