DHL Stoermers team up with Thor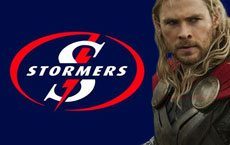 The buzz you've heard is true – the Stormers will adopt the Thor look in the upcoming Super Rugby competition 2019! It's only logical that the Stormers' kit will be emblazoned with the colours of Thor. Son of Odin, God of Thunder and Prince of Asgard, Thor Odinson is a powerful protector of both Earth and his home realm of Asgard. 
Thor wields the mighty hammer Mjölnir as the lord of lightning, uses it to summon rain, thunder, wind and to blast energy beams at his opponents. Will the Stormers squad members inherit some of Thor's powers through the specially designed kits? We'll see!