Surfing in Durban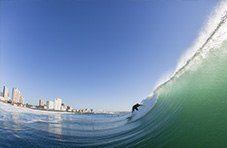 If you're an adventurous spirit who likes nothing better than to ride waves, head to Durban, the Surf City. With regular swells, good wind conditions, a variety of reef, point and beach breaks, and warm and inviting waters of the Indian Ocean, Durban will be equally welcoming to beginners as to experienced surfers. Having enjoyed the waves to the full, take a day off to explore the city and its surroundings and learn why Durban has made it to the list of New 7 Wonders Cities.
Consistent Beach Breaks and Warm Water
Although consistency is good during the whole year, Durban experiences the best conditions from May to October, so now is a good time to grab your surfboard and pay it a visit. The most popular beach breaks include Bay of Plenty, New Pier, North Beach, Wedge and Dairy Beach. Bay of Plenty provides consistent surf and offers both left and right hand waves, and same as North Beach, it hosts a number of international surfing competitions. New Pier will fit the needs of intermediate surfers as its almost identical waves provide a perfect training ground.
Durban being the Surf City, it's not surprising to find a beach with a name directly related to this sport. The word "wedge" is used to describe shape of waves turning upwards to form a triangle, or an "A-frame". Dairy Beach is not only a popular surfing spot, but also the main swimming area. The surf can get large and rough, but it also experiences calmer days and beginners will be able to hire a surfboard and get lessons easy enough.
As the water is warm throughout the year, there's no need for boots or a hood, nor a warm coffee waiting to warm you up when your board is once again out on the beach.
A Unique Blend or Cultures and Magnificent Scenery
While archaeological evidence shows the area has been populated by hunter-gatherers since 100,000 BC, the modern city of Durban dates to early 19th century. Today, the largest city in the province of KwaZulu-Natal is not only Africa's busiest container port, but also a popular tourist destination which will allow you to experience a unique blend of Indian, Zulu and post-colonial cultures. This interesting mix is well evident in both the city's architecture and the cuisine.
Durban is renowned for the Golden Mile, magnificent beaches stretching along the city's beachfront and offering plenty of opportunities to enjoy the sunshine and a dip in the warm waters of the Indian Ocean. Paved walkway which links Blue Lagoon with Addington Beach is a lovely promenade where you can take a relaxing walk, go jogging, or cruise on a bike.
A visit to Shakaland will enable you to learn about Zulu customs, take part in their traditional ceremonies, consult a spiritual leader and meet a traditional herbalist. The Valley of 1000 Hills, located only half an hour's drive from the centre of Durban, hosts Zulu museum and features magnificent scenery and wildlife.
The area is also home to the oldest African botanical garden with an impressive collection of cycads and many of the local and exotic fern species. More than 4,500 birds of 400 different species populate Umgeni River Bird Park, while the nature reserve Burman Bush boasts an incredible diversity of flora and fauna, allowing the blue duiker, mongoose and vervet monkey to hop among the beautiful red beech, forest fever berry, flat-crowns and shade trees.
The city is also a gateway to the Drakensberg, over 1,000 km long escarpment which acts as a border between the province of KwaZulu-Natal and Lesotho. Rich plant life found in the Mountains of Dragons includes many endemic species as well as rarely seen conifers. While enjoying diverse scenery, you'll come across South Africa's longest river, the Orange River.