Shooter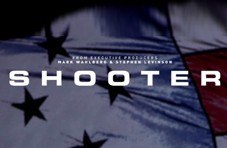 Those of you who never got around to watching that 2007 Mark Wahlberg movie called Shooter will be happy to know the story is broken down to 18 43-minute long episodes so far and more to come in a television drama series with the same name. Mark Wahlberg stays as the executive producer and the lead goes to Ryan Phillipe while the show bases its events on what is described in the Stephen Hunter novel Point of Impact.  The show focuses on the life of Bob Lee Swagger, a highly trained Force Recon Marine and a skilled marksman. He enjoys his retirement until a conspiracy brings him back into action. Falsely implicated in an assassination attempt on the President of the United States, Bob Lee Swagger is determined to protect his family and clear his name.
Thriller about a Sniper Home from War
The protagonist was serving his country in Afghanistan as the Marines' premiere sniper. After the war, he tries to have a normal life with his wife Julie (Shantel VanSanten) and young daughter in Washington State. The troubles begin when his former commanding officer and Secret Service agent Isaac Johnson, played by House's Omar Epps, asks him for help in preventing an assassination on the President. Swagger wants to distance himself from war and violence, but at the same time he wants to serve his country, so, reluctantly, he agrees. Unfortunately, he ends up framed and incarcerated. Since Bob Lee is 'a good man good with a rifle' who 'will do anything to protect his good family', the show if off to a good start.
Ryan Phillipe is known for roles in Cruel Intentions (1999) and The Lincoln Lawyer (2011). In Shooter, he delivers a solid performance and leads an overall strong cast into executing a familiar formula. The show sees Bob Lee in exile with counter-terrorist agent Jack Payne (Eddie McClintock) and FBI agent Nadine Memphis (Cynthia Addai-Robinson) after him. Not everything is what it seems for these two supporting roles. Oh yeah, the Russians are involved too. We also see events affecting Swagger's family: his wife Julie dealing with the backlash against her family and betrayal as well as some nerve-wracking moments in which their daughter is in grave danger.
Consistent Plot and Motifs of Patriotism and Loyalty
Shooter aims to capture the drama of the film from which it's adapted, focusing primarily on the connections to the war in Afghanistan and less on the emotional context. Although the Shooter TV show received mixed reviews from critics, it can't be denied that it has plenty of high points and these keep it on the air. Straight-up storytelling and action-packed sequences are one of the successful formulas applied here as well as fast-paced dynamics and guns, guns and more guns. It may not be original, but it sells.
While the show is clearly fascinated with guns, it also reflects on the responsible use of weapons, which, in this day and age, is important as it is relatable. Some viewers have stated that they've gladly watched the show with their kids and used it as an introduction to the concept of responsible gun use. Others have pointed out that the show truly takes off with the second episode (as with most shows, the pilot can be somewhat of a sleep-inducing overture) and it becomes an enjoyable rollercoaster ride from then on.  Truth to be told, Shooter is a series for viewers who enjoy the 'cat and mouse' chase shows and aren't precisely looking for a complex story world. And for those who admit having a fetish for guns. One sometimes needs to turn a blind eye on cheesy dialogue, but it seems worth it for all the tension and twists.
If you did see the movie, the show is not that tightly based on it. Some parts may remind you to the feature film but the story is different enough to be refreshingly entertaining. Note that series one has 10 episodes, and series 2 has eight - it needed to be cut short because Ryan Phillipe injured his leg off set at the time of the shooting of the final episodes. As more of Shooter is expected to hit the small-screen in mid-2018, check out the existing seasons on Netflix; chances are the show will exceed your expectations.