The End of the F***ing World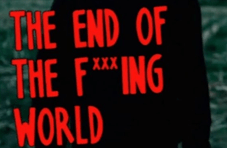 So, apparently, 'dramedy' is the word we ought to be looking for to describe the TV show The End of the F***ing World. Perhaps, we could say it is a comedy-drama with some dark moments, a black comedy-drama if you will. The genre may be a bit tricky, but the facts are that the show debuted on British Channel 4 before it dropped on Netflix on January 5th, 2018 and became available worldwide via stream. It has taken the audience by storm soon after and received critical acclaim.
The End of the F***ing World is based on a 2013 graphic novel of the same name by Charles Forsman, and the first (and only) season covers the entirety of the storyline as it was presented in Forsman's original comics. The show revolves around two 17-year-olds who are not your average teenagers. James (played by Alex Lawther, a young actor with a memorable role in Black Mirror) believes he is a psychopath and is prepared to accept his psycho persona. Alyssa (played by Jessica Barden, previously known for Penny Dreadful) is a rebellious, temperamental girl and she is James' classmate. The duo goes on an adventure which will grow to be something much larger than a simple road trip across England. The End of the F***ing World is a story about relationships, love, mishaps, repressed childhood trauma and identity, among other things, and it stretches across 8 brisk 22-minute episodes.
Bonnie & Clyde Inspired by Early-'90s Indie Cinema
The very first scene introduces us to James; "I'm James," he announces via voice-over as we look upon a skinny British kid and his name written in skewed red letters appears on screen. Immediately, we're reminded of certain Tarantino moments. His self-diagnosed psychopathy manifests itself through killing animals as a hobby. As he crosses paths with Alyssa, the cool and rebellious new girl at school, he settles on her to be his first human victim. Disturbed as he is, he becomes Alyssa's love interest and that makes the fulfilment of his intentions to kill her easier at first.  Alyssa is nothing like pretty teen girl heroines we're used to seeing on TV; instead of trying to attract the attention of her crush by doing stupid teen stuff, she assumes the role of someone who calls the shots, both sexual and otherwise. She is convinced she is unworthy of love, as she was abandoned by her father and left in the hands of an idle mother and a creepy stepfather.  
The two strike up an unlikely bond; they start dating and, motivated by their turbulent home lives, they succumb to young anger and run away from home. On a road trip in search of Alyssa's real father, the protagonists get into trouble with the law. Since both characters are people of few words, the show uses a unique narrative style to reveal their feelings. Episode after episode, the viewer is able to piece together what they think and feel and combine that with what they recall in flashback scenes only to realise the complexity of their relationship.
British Humour Paired with Americana Road-Trip
It's not until the fourth episode that we learn more backstory about James and Alyssa and their families, just around the time when they find themselves in serious trouble. Their hardened facades begin to crack and we see sensitivity shining through. Unknowingly, the two break into the house of a serial rapist, Dr. Clive Koch (Jonathan Aris). The events that follow make James emotionally and physically ill and we see something we've probably known already - that he isn't the cruel psycho he considered himself to be. They become fugitives, chased by two police investigators, Eunice Noon (Gemma Whelan of Game of Thrones) and Teri Donoghue (Wunmi Mosaku). The end will leave you craving for more, but also plant a seed of that 'story well-rounded' feel into your experience.
The show goes into subjects of what happens when one reacts purely on impulse, the idea of absolute freedom, of wanting something more from life than a boring routine. Praised for its writing, execution and subject matter, as well as for the performances of the two leads, The End of the F***ing World mixes misanthropy, humour and typically British caustic tone and seasons it with punk-rock and indie-pop music. The result is a series you will definitely not abandon half way through.