Wines of South Africa: Central Orange River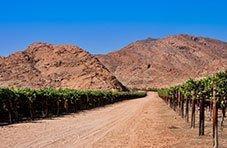 The Cape's most northerly wine-growing region stretches along the Orange River. This is predominantly a white grape area which provides an extensive range of dessert wines, semi-sweet wines and blends, though reds are also being increasingly planted. The region is home to Orange River Cellars, South Africa's largest wine cooperative and the second largest in the world. Having started almost 60 years ago with only three wines produced originally, today the portfolio consists of more than 30 different, award-winning products. 
The Wines of Central Orange River
Orange River Cellars, established in 1965, comprise of five wineries. They are located in northern parts of the Northern Cape Province of South Africa, also known as the Kalahari, stretching across more than 350 kilometres and 17,000 hectares.
Wine grapes originate from 750 expert farmers along the Orange River, also known as the Great Gariep River. The river creates cool microclimate which allows for the cultivation of quality grapes. Soil types along its banks vary greatly and are made up of granite, alluvial deposits, shale and dolerite. Sultana, columbard, chenin and hanepoort grapes get their fruitiness thanks to temperature and clean desert air, resulting in smooth, easy-to-drink aromatic wines.
Styles of wine produced along the 350 km stretch of river differ in style and flavour. Eastern cellars Grootdrink and Groblershoop feature wines of high natural acids and low pH values, with crisp and piquant flavours. Fleshier and more voluptuous wines come from central and western cellars Upington, Kakamas and Keimoes. The wine grape varieties include Chenin Blanc, Colombard, Chardonnay, Pinotage, Cabernet Sauvignon, Shiraz, Merlot, Tannat, Petit Verdot, Muscadel and Muscat d'Alexandrie.
Central Orange River wines are enjoyed both locally and internationally and boast numerous industry awards. Varying from entry-level to premium quality, they're equally accessible to just about everybody. 
The Attractions of Central Orange River Region
The town of Upington was founded in 1884 as a mission station. Originally called Olyfenhoudtsdrif (Olive wood drift) thanks to abundant olive wood trees, it was later renamed by the Cape's Prime Minister Sir Thomas Upington. The mission statement initially run by Reverend Christiaan Schröder now houses the Kalahari Orange Museum which presents local social history and displays many domestic and agricultural artefacts. If you pay it a visit, you'll also see a statue of a donkey – an important contributor to the region's development during the 19th century. The camel outside the police station commemorates the animal on which the police patrolled the vast Kalahari in the past.
The new tasting center offers an opportunity to taste a vast range of wines, including dessert and sparkling wines, paired with platters of cheese, olives and biltong. Bezalel winery provides what is probably the most varying tasting experience in the country. You'll not only get to sample the wine, but also port, brandy, cream-based liqueurs and mampoer (moonshine).
You may want to take a break from enjoying alcoholic beverages by engaging in one or another outdoor activity, such as hiking, taking a trip on a donkey-cart, or going quad biking. At the end of the day, let the amazing sunsets and starry nights of the Kalahari take your breath away.