Wines of South Africa: The Klein Karoo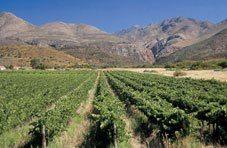 The Klein Karoo Wine Route in the Southern Cape is considered to be the most diverse South African wine region. It stretches along the Cape Route 62 from Montagu to the Outeniqua and is home to 20 vineries. Dry and harsh conditions in the area are ideal for the production of excellent wines, allowing for the cultivation of healthy vineyards which are largely grown organically.
Viticulture takes place mainly in riverine sites, valleys and kloofs of the rugged mountains, and gives birth to Muscat varieties and sweet wines the area is renowned for.
An Undiscovered Gem
The Klein Karoo nests between magnificent mountain ranges and it's their high slopes where vines are mostly grown, taking advantage of the fertile alluvial soil along the riverbanks. This arid area is populated by succulents and dwarf baobab trees, and the unique terroir allows winemakers to produce a wide range of quality products. Fortified wines include specialties such as world class Port and South Africa's champion Muscadel. Klein Karoo additionally offers a host of red and white wines which vary from light and easy-to-drink varieties to full-bodied Shiraz, as well as dry wines produced from traditional Portuguese cultivars. Klein Karoo is also renowned for the quality of internationally recognised pot-still brandies. The excellent range of wines is complemented by the unique cuisine, hospitable locals and breathtaking landscape.
Klein Karoo Wine Cellars
Montagu wine cellar has been producing wine since 1941, mainly Muscadel, though later on they've also added dry table wines to their offering. The cellar is a multiple winner of the Champion Co-Op cellar of the region title and their red Muscadel was several times rewarded at the Nederburg Wine Auction.
Uitvlugt is a co-op cellar which produces full-bodied red wines, dry and fruity whites, port, Muscadel and a sparkling wine. It's not only the oldest winery in Montagu, but also part of the BWI (Biodiversity and Wine Initiative). Rietrivier is also a co-op counting 46 members and producing mainly red wines and Muscadel, with the production being done in as environmentally friendly a way as possible.
Joubert-Tradauw is an old-world style cellar using traditional methods to produce classic, elegant, handcrafted wines. Their flagship products include Private Cellar Chardonnay, Private Cellar R62 Merlot, Private Cellar Syrah, Cabernet and Reserwe 62. Barrydale Cellar produces whites such as Sauvignon Blanc and Chardonnay/Viognier, while Cabernet Sauvignon, Pinot Noir, Merlot and Shiraz are some of their reds.
Ladismith cellar produces an extensive range of whites, including sparkling wine, Chardonnay, Sauvignon Blanc, Chenin Blanc and Aristaat. Among their reds you'll find Ruby Cabernet, Shiraz, Touriga, Merlot, Pinotage and Cabernet Sauvignon, and Muscadel and Hanepoot represent Ladismith's fortified wines. Boplaas is known for its ports and award-winning pot-stilled brandies. Their offering further features several sparkling wines, a range of whites such as an unwooded Chardonnay, and red wines like Touriga Nacional, Cabernet Sauvignon and Ring of Rocks.
De Krans produces Golden harvest and other white varieties, red wines including Tinta Barocca, Tempranillo and Red Stone Reserve, fortified wines and ports. Calitzdorp is a co-op cellar featuring plantings of Tinta Barocca and Touriga Nacional, famous for its port-style wines. Axe Hill makes only one vintage each year from a blend of traditional Portuguese varietals, matured in old 500l French oak barrels. They also produce Cape vintage port and a dry white port.
At Grundheim the grapes are allowed to ripen on the vine which gives them a distinctive raisin character. Their wines, among which Chenin Blanc, Shiraz, and a number of fortified wines, contain no artificial colouring nor sugar. A female winemaker at Herold Wines makes good use of the six hectares to produce Pinot Noir, Sauvignon Blanc and Shiraz wines.