Baby Hippo Owen Befriends Giant Tortoise Mzee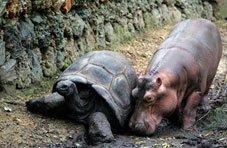 Baby hippo Owen lost his family when a tsunami hit the beach, leaving him stranded on the reef. He was rescued by local people who named him Owen, after one of the rescuers. Haller Park in Mombasa became his new home and, while lovingly looked after by a team of caretakers, little hippo felt confused and lonely.
As there were no other hippos to play with, he tried to befriend a 130 years old tortoise by the name of Mzee and started following him around. Whether Mzee liked this or not, he could do nothing about it as he was too slow to lose baby hippo.
However, Owen's personality quickly won him over and it wasn't long before Mzee started to appreciate the company. In no time they were doing everything together, sharing their meals, enjoying their baths and sleeping next to one another. They even developed their own way of communicating to each other! The two friends were inseparable for the next two years, until they went their separate ways.
Haller Park rescue centre is home to a variety of plant and animal species, providing a wildlife sanctuary to hippos, buffaloes and a congregation of water birds. The rescue centre was the first recipient of the UN Environmental Program Global 500 Roll of Honour award for the unique, ecologically sound and successful rehabilitation undertaken.