Who's Chasing Who: Best Friends Tommy and Salati Change Roles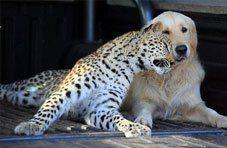 Salati was rescued as an orphaned leopard cub and donated to the Glen Afric Country Lodge near Pretoria, a family-run retreat which helps injured and abandoned animals. When she met Tommy, the family dog, ten-month old Salati was still a tiny kitten. They quickly became friends who explored the countryside together and Tommy playfully chasing Salati was the usual  sight.
Not so anymore, since the little leopard girl is now twice as heavy as her golden retriever friend. When Glen Afric owner takes them out for a walk, Tommy probably feels a bit confused while he's being chased by a giant cat. There's lot of love shared between the two, however, and Tommy and Salati can often be seen snuggling up to each other after a good run out in the open.
Glen Afric is home to a range of adopted wild animals which were either rescued or bought from film and TV companies to prevent them being sold illegally after their acting days were over. Since they are captive animals used to human contact, they can't be released into the wild and will spend the rest of their lives on the farm. Having their best friends to keep them company, it's bound to be an enjoyable stay.