Land Based Casinos Have Many Hard to Detect "Costs"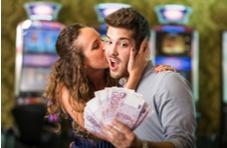 In this article, we'll talk about some of the inherent benefits of playing at an Aussie online casino instead of at any of the many land-based casinos that dot the coastal regions of our vast island nation.
The "Inherent Costs" of Land-Based Casino Gaming
It costs money to get to a land based casino.  It costs money to stay there overnight.  These are the two most obvious "inherent costs" of gaming at one of these casinos.  But there are others.
The building costs a lot of money to build and maintain.  Anyone who has ever owned a home or even a car knows that big-ticket properties are very expensive to keep.  The next time you go into a land based casino, or any large building such as a hotel or supermarket for that matter, look around and imagine how much it costs to keep the building up, from cleaning to replacing furniture, ad infinitum.
It costs a lot of money to replace pokies or video poker terminals.  At land based casinos, they don't replace video poker terminals often but game developers bring out new pokies every month.  There is a cost to the casino to bring it into the bank of pokies for your gaming pleasure.  It is so much easier to introduce new online pokies.  There is always more room in cyberspace!
What Effect do these "Inherent Costs" Have?
They reduce the general return to player rates for all games that for which this rate can be determined.  The random number generator can be calibrated to return 90% of all wagers instead of 97% at top online casinos.
Land based casinos manipulate the rules in games like blackjack where players can play well using excellent strategy and can in this way reduce the house edge.  In blackjack, for instance, many land based casinos pay 6-5 for blackjack instead of 3-2.  This is a hidden "inherent cost" to the players.  Another ploy in blackjack is to restrict doubling down and splitting.  Finally, casinos can restrict the rules governing surrender.
Casinos impose "inherent costs" in video poker as well.  The most common trick land based casinos use in video poker is to change the payout for a full house or a flush from 9-6 to 8-5 or even worse than that.
Promotions
Online casinos generally have a comp points promotion in which all wagers are converted into points which the player can convert at a later time into casino credits.  Land based casinos have similar promotions.
Here are the major differences.  First, an online casino will automatically enroll a new gamer into its comp points promotion. At a land based casino, you might have to ask for a player card which records your comp points. 
Second, an online casino automatically records your comp points whenever you play but at a land based casino you have to remember to use your player card.
Third, at an online casino, you can always use your comp points as soon as they reach the minimum level for being converted into casino credits. At a land based casino, you have to come back to the casino to use your accumulated points.  Since you can play a lot more often online, you'll have a lot more comp points to convert at an online casino than at a land based casino.
Casino Giveaways
The very fact that land-based casinos offer free alcohol, free food, and in some cases free accommodations mean that the casino is making a lot of money.  Nothing is actually really free so the giveaways at land-based casinos actually represent hidden inherent costs".
Temptation to Stay
This is one of the most common "inherent costs" at land based casinos.  There aren't clocks or windows so people don't realize just how long they have been playing.  This is actually well known.  But at land based casinos, there is a strong temptation to stay at the table or terminal since there isn't all that much to do outside of gambling.
Staying at the table is a subliminal "inherent cost" of land based casino gaming.  That is because some games play faster than others which, if you don't get up from the game, will inevitably lead you to play too long.
Games per Hour
Pokies play very fast.  Blackjack and video poker can play more slowly.  Bingo is very slow as is keno.  There is a strange contradiction in land based casino gaming.  We are told that we should indulge ourselves in safe and healthy gambling if we wish to gamble at all.  That involves setting a very specific time limit on our gaming.
What actually is the point of going to a land based casino if we are going to leave the casino after a single hour?  So, at land based casinos, players are tempted to stay and play.
When we play online, we know that there are any number of things waiting for our attention be they shopping, cleaning, gardening, washing the car, picking up the kids, laundry, cooking, or even work!
When we play online, we can far more easily restrict the number of games we play per hour or in a gaming session.  It is far more difficult to do that at a land based casino.
Follow the Leader
This happens at land based casinos and almost never online.  Here are two examples.  The tie bet in baccarat has a very high house edge.  The other two bets have a low house edge.  Many baccarat players follow the leader and make the tie bet even though it is not a good bet simply because the most dynamic player at the table is making that bet.
In blackjack, if we play with the best strategy, there will be times when we hit with 12 or more points.  In fact, there are many such times.  At a land based casino, the other players may become nasty towards the player who plays with the best strategy because that player "takes the dealer's bust card". 
Players caught in this particular bind have to fend off the wrath of the mob, leave to table, or follow the leader.  Many choose the latter course of action.
Following the leader is another hidden "inherent cost" of land based casino gaming.
Conclusion
Of course, we would never say that land-based casino gaming is entirely inferior as a venue for gambling.  We do say that online casino gaming has many manifest and also hidden advantages.  Check out Springbok online casino today.