Beware the Black Ops: How to Spot a Rogue Online Casino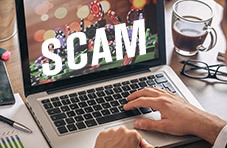 Playing casino games online can be fun and rewarding.  These days gaming software is so sophisticated slots, video poker, roulette and blackjack virtually pop right out of the PC, tablet and smartphone.
High resolution 3D imagery is more than immersive, it's mesmerising.  Cute and cuddly character animations add a touch of Disney to proceedings.  To add to the authentic casino experience, the sounds synonymous with the jingle and jangle of Vegas are now common features at the top remote gaming destinations… and you can count Springbok mobileamong the best.
The Dark Side
Along with the myriad positives of gaming online, there's a dark side.  Pirated software is invading cyberspace. Unscrupulous operators with sleek instant play interfaces and big bonus bling are a dime a dozen online. Rogue casinos are becoming more and more audacious in their bid to lure unsuspecting 'victims' into their webs of deceit. 
If you're not on your guard and aware of the subtle tells of black ops, it's easy to fall victim to a scam that'll leave you bewildered and partially bankrupt.
Black Betting Market Handles Billions of Dollars
Aside from the counterfeit games and fraudulent app- and web-based gaming platforms, there's a massive international black market that's illegal and unregulated.  In Vietnam for instance a highly sophisticated online gambling ring was recently bust by authorities.
This one giant operation handled more than $1 billion in wagers on casino games alone.  The ring avoided detection by getting players to deposit money into various accounts at different banks.  In exchange, they were emailed coded virtual money coupons that were only legal tender at the one betting site!
Although there was no hint of foul play at this particular operation, as a player you could so easily have been ripped off… and there would be no regulatory authority to intervene on your behalf.  This is one of many red flags that are fluttering over the remote gaming industry.
Fake Video Slots That Don't Pay Out
The latest scam that's doing the rounds is rather more difficult to identify.  These days there are dozens of gaming sites that not only look legit but offer 'certified' online casino games by well know game development and software brands like Net Entertainment, Betsoft, Novomatic and so on. 
The only problem is most of the slots are not authentic at all, they're clever forgeries.  The trick is that when you open a game in the fun mode, everything works as it should.  You'll hit paying symbol combinations, land wilds, scatters and multipliers on the reels and most likely activate the free spins bonus round. 
When you migrate to the real money mode, that's when the fraud kicks in.  Instead of playing a straight up slot, you'll be sneakily transported to another server where a counterfeit slot takes its place.  Although it looks exactly the same as the original… it's not.  The end result?  You'll happily pump money into the virtual machine but the payouts will be sporadic and nominal in value… that's if there are payouts at all.
How do you identify these gaming fakes?  The easiest way is to check out the slot's server address.  You can do this when the game is downloading on your desktop or phone.  Simply right click on the window to open the Flash player settings and you'll be able to see the address of the game server.  If it doesn't correspond in some way to that of the name of the legitimate software provider, the odds are you've been scammed!
At Springbok mobile and online casino, you'll only find Real Time Gaming (RTG) developed casino games certified fair by Gaming Labs International (GLI).  That means it's completely safe to bet real money on our varied collection of slots, video poker variations and table games… and that's a promise!
Winnings?  What Winnings?  
Another ploy that's really common at rogue online casinos is their propensity to delay withdrawals.  Some of the more impertinent operators even withhold winnings altogether.  You'll find these types of casinos are more than happy to accept your cash and often lure players into making sizeable deposits by offering huge match bonuses of up to 500%.
However, when it comes to cashing out, they're not so willing to process requests.  In the worst case scenario, they'll simply lock you out of the system and close your casino account… and there's nothing you or anybody else can do about it, as you'll find rogue casinos are not licensed at all.
The Springbok mobile and online channels are licensed and regulated in Curacao.  We are also associated with Central Disputes Resolution (CDS), an independent body that quickly and amicably resolves issues between disgruntled players and remote gambling destinations like ours.  
Anybody with a beef with Springbok casino has the added benefit of being able to register a complaint by clicking on the blue and yellow CDS logo posted on the base of our home page!
Ridiculous Terms and Conditions
Aside from providing sham software and refusing to release the funds you've won playing casino games online; the bad guys always seem to have the most punitive terms and conditions of use.  Bonuses usually have unachievable wagering requirements, low payout limits and rules that are criminal in their intent. 
If you find that the T&Cs are always changing, deposit bonus playthroughs are more than 50% and the available payouts at the casino can never be more than your deposit, then pin your ears back and run as fast as you can.
The good news is that along with our varied selection of bonuses and promotions, you'll find perfectly acceptable T&Cs on the Springbok mobile and online gaming channels.  
The wagering requirement on our deposit bonuses is just 30 x and our popular cashback offer has no maximum payout and a meagre 10 x playthrough.  We make every effort to expedite the withdrawals process and our weekly cash out limit on winnings is R25 000 a week!
What are the Red Flags of Black Casino Ops?
No evidence of a licensing or regulatory authority
No available information on the owner and operator of the casino
Provision of uncertified counterfeit online casino games
Predatory Terms and Conditions
Long delays in processing cash outs
No payment of winnings