How Tech is Powering Up the Casino Games Experience Online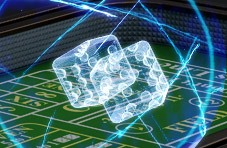 Every day something brave, new and exciting is happening on the technology front.  In the first few months of this year mind-blowing achievements have been realised which only a year or two ago were viewed as impossible, unrealistic or undesirable.
SpaceX successfully lands all its rocket boosters on the Cape Canaveral launching pad.  Minute little bots display breath taking load carrying capabilities of up to 5 tons.  Artificial Intelligence is on the cusp of becoming the teaching method of choice at ivy league universities… and that's just a small sample of what's been proven to be possible with the assistance of mind-bending tech!
The Tech Transformation in the Gambling Industry is Booming  
In the multi-billion-dollar world of online gambling, tech transformation is happening at an electrifying pace. Casino games developers are creating extraordinary gaming opportunities that are an innovative blend of console-based video games, Walt Disney cartoon characters and conventional slots.
With smart tech-imbued software and apps, there's really no limit to what the creative wizards can dream up and deploy on our PCs, tablets and smartphones.
Big data is being collected and analysed to provide intimate and personalised user experiences at digitalised smartphone-enabled casinos.  Virtual and Augmented Reality is now freely integrated into games and platforms to deliver remote gambling that has extreme touches of stop-and-stare 'reality' woven in.
Cryptocurrencies Deliver Anonymity and Maximised Security
At a star rated online casino for New Zealand Kiwis - and we're referring to Springbok casino of course - cryptocurrencies have been introduced as a method of funding remote game play.  That means complete anonymity and heightened security – two elements that are likely to delight serious gamblers all over the world.
What are the key tech trends reshaping the online casino ecosystem?  Let's take a closer look at how VR, AR, Artificial Intelligence, machine learning and blockchain are steaming up the glass on the digitalised casinos' small screens:
Creatively Rich Casino Games
With technology, convention has been tossed in the bin.  Boundaries have been smashed and game and entertainment genres have been inter-married to produce casino games that are Hollywood, console gaming and real money gambling opportunities rolled into one.
An award winning 'slot' by the self-proclaimed creators of cinematic gaming software has set a brilliant benchmark of what can be achieved with artistry, animation and the guts to innovate something unique and different.  Max Quest: The Wrath of Ra is an action-packed interactive shooting and looting game that's classified as a video slot but without the reels and confines of a conventional slot.
Game play takes place randomly on an invisible layout and players have the freedom to purchase in-game weaponry, undertake quests and earn experience points over and above Rands and cents.  It's a multiplayer maelstrom of the ilk of the celluloid versions of Raiders of the Lost Ark or Tomb Raiders starring Harrison Ford and Angelina Jolie, respectively.  You can even customise your own avatar and blow enemies away to win yourself some bling-bling.
Right here at Springbok casino we've got a similar sensation in the form of Cubee: Time Travel Adventure.  Our RTG developed slot game may not be as sophisticated or slick as the Max Quest masterpiece but it offers a brave and unique gaming experience.  Reels are replaced by a swirling vortex, as the player you'll travel through three different historical eras and you have the added enjoyment of collecting weapons and in-game items that may just reward you with free spins and multipliers that slide in scale and volume.
What can we be anticipate for the games of the future?  Well, with AR making a welcome appearance in the design and development stage and the lines blurring between the different forms of entertainment that are being integrated into conventional gambling options, there's really no limit as to what comes next!
Social Gaming 
We're in an era defined by sharing; the sharing of images, posts, achievements and selfies.  We're also in an era where most social networking takes place remotely rather than face to face.  Casino operators and game developers have cottoned on to the social aspect of gaming.
Multiplayer games across all the popular genres – slots, video poker and table games - are now mainstream menu items at almost all gambling destinations online.
Live casinos have become big business… and we're not talking walk-in brick and mortar casinos like the Bellagio.  These casinos have real dealers and real tables and are located in a studio or a B&M casino somewhere far away - but the players are safely tucked away in front of their screens at home, on the bus or in the park.
The action is streamed in real-time to players all over the globe.  They can socialise and chat to participants via integrated in-game chat facilities and gamble, play and win on the gaming interface on their device.  It's real-life socialising but without the hassle of leaving the comfort and safety of home.
Now social gaming has taken a new twist.  Social networking platforms are offering free to play casino games where no real money changes hands.  Gamers can connect and compete against each other, earn achievements, prizes and trophies and boast about their antics on their social media profiles!
Facebook and a few other social platforms have taken the concept of social gaming to a new level.  Games like Farmville, Zynga Poker and more recently Bingo and Slots Friendzy exchange bets for cash and pay out real money but the games are only available to certain audiences in certain countries.
Betting on the Blockchain
Blockchain technology is a game changer in online gaming.  First of all, it's an anonymous method of depositing and withdrawing funds in and out of the casino account.  That means hackers can't exploit lapses in security and access users' sensitive information.
Blockchain is also an indelible record of what bets are made, what games are played and what winnings are paid out.  No-one including the casino operator can erase or amend gaming history.  This in itself means total transparency that can only be good for players and honest operators who want to build a strong and sustainable following.
Last but not least, blockchain casinos are based on a decentralised system.  That means third parties like TST and GLI are not required to verify data.  Casino games are simply inaccessible to anyone and everyone who may want to manipulate payout rates.  They are also desensitised to sophisticated gambling bots that some naughty gamblers deploy to alter the game results in their favour.
If you're a straight-up gambler who's looking for a straight-up bitcoin-fuelled gambling experience online - an experience that's secure and indubitably fair - Springbok online casino for New Zealand is tailor made for you!