How Mistakes and Glitches Cost Bookies and Casino Operators Millions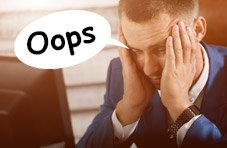 We all know gambling on the horses, dogs, sports and casino games is a multi-billion-dollar industry.  What is less well known is that even mega-money businesses can make costly mistakes - and when we mean 'costly', we mean a good few million dollars here and there!
In some cases, human error has been responsible for gobbling up huge chunks of what should have been straight profit.  In other cases, players have been crafty enough to exploit glitches in the gaming software.  
Before we get into the details of who did what and when, it's important to emphasise that as a top-rated casino for Kiwis, Springbok casino does not advocate or support any kind of nefarious activity, whether it's by bookmakers, casino operators or players. 
Online Casino Welcome Bonus Creates Money Mayhem
A leading European-facing online casino caused quite a buzz recently when it offered a jaw dropping new player bonus.  On the face of it the 100% deposit match bonus wasn't that unique.  On closer inspection it proved to be a major payday for those smart enough to exploit the mistake.
Along with the standard cash match - which by the way was valid on minimum deposits of $10 - the wording in the bonus offer stated that new players were also eligible for $2 400 in cash.  What that meant is for an outlay of just $10 players had $2 420 to spend on the casino games, complements of the house.
Although the operator did eventually pick up the error and the person responsible for the blunder was summarily dismissed, they had to honour the bonus offer.  To add to the catastrophe the casino wasn't legally entitled to change the bonus terms and conditions until a certain period had elapsed.
In the meantime, several thousand of the new players who'd registered an account with absolute relish allegedly went on to win lots and lots of money using the 'bogus' bonus cash!  Estimates are that more than a million dollars was plundered via the bonus.
How did this fiasco occur?  Well according to the amendments finally made by the casino, the quoted $2 400 was actually meant to be the collective total of an entire year's supply of 100% deposit bonuses of up to $100 apiece!
At Springbok online casino for New Zealand you can legitimately cash-in on a three-part welcome bonus that's valued at up to R11 500.  Now that's a great way to explore the RTG casino games and their juicy potential payouts - for sure!
Punters Capitalise on Offbeat In-Play Odds
An American sportsbook was recently taken to the proverbial cleaners by a slip of the digitalised fingers.  In a hotly contested NFL game between the Denver Broncos and the Oakland Raiders, a system's glitch created mind-boggling odds on a Broncos' win... with less than a minute left on the clock.
When in-game odds of 750/1 popped up on the betting interface the Broncos had ball in hand on their 45-yard line.  Only two points separated the teams.  As any savvy gambler would do, punters grabbed what could only be termed a 'golden' opportunity and poured money on a Denver win.  A field goal clinched victory for the Colorado team… and the bookmaker was left with egg on the face.
What actually transpired was termed a system's error but someone somewhere must have had a hand in the financially damaging debacle.  The system apparently updated the odds erroneously by posting a price of + 75 000 or $100 to win $75K when the odds should have been - 600 or $600 to win $100!
The exact amount the bookie had to pay out on the bad bet has not been revealed but we do know of at least one happy punter who walked away with more than $82 000 thanks to a last-minute $110 in-game wager!
Video Poker Double Up Feature Proves Deadly for Casino Operators
Two avid video poker players in the USA found a glitch in the gaming software of a particular series of machines and skimmed millions of dollars in winnings.  The scam lasted several months and casino operators in Las Vegas and Atlantic City were fleeced of their profits.
According to reports the duo systematically worked the IGT-developed Game King machines in casinos in both cities.  By complete luck they'd found it was possible to retroactively switch the betting denomination after registering a big win.  This ploy only worked when the Double Up feature was active.
While they'd wager in the one cent mode, they'd immediately level up the payouts to the highest available denomination each time they hit a high paying poker hand.  That meant they'd capitalise on the software bug twice - by deceiving the machine into paying out in a higher denomination and then doubling up on the deceptive win.
They worked the machines so professionally that not even the most alert security personnel in the casinos could figure out how they were being cheated… only that they were!  At the end of the day it was greed and rivalry between the two scam artists that finally landed them both in jail.  However, the millions of dollars they'd filched from the machines were never recovered!
At our online casino for Kiwis you'll find the best video poker variations in terms of odds, payouts and bonus wins.  Check out your options right now and see whether you can maximise your overall win rate by hitting big paying poker hands - no scamming accepted or required!
$40 Million Plus Down the Drain Through 'Dealer Mistakes'  
A baccarat high roller blew the vast majority of a $50 million line of credit at an Aussie casino and then blamed dealer mistakes for his misfortune.  The fat cat from Singapore was allegedly seduced into bringing his considerable reputation as a gaming whale to the Queensland-based gambling den.
Along with a fully paid flight by private jet, the international gambler was offered all sorts of perks…. including $50 million in casino chips which he covered with a blank cheque.  Luck appeared to have been in short supply Down Under as the Singaporean enjoyed a protracted losing streak.  He splashed out more than $41 million at the tables in just a few days and had nothing to show for it.
Clearly unimpressed with his AUD gambling experience, the big-time baccarat player returned home and promptly instructed his bank to cancel the cheque.  The casino is now suing the VIP for the losses but he insists he's not liable as he'd informed the operator at the time that the losses were due to consistent dealer mistakes.  Quite what these mistakes were, is anyone's guess but the biggest gaffe of all is the casino's miscalculation as to the credibility of their VVIP high roller! 
At Springbok online casino for New Zealand we don't offer lines of credit but we do have a promotions page packed with player incentives!