Three of the Richest Poker Players in 2019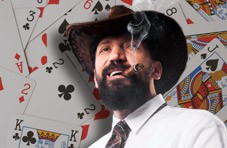 Card games like Texas Hold'em, Omaha and Stud are steeped in history, legend and mystique.  They all stem from poker, the default card game that gained fame and notoriety in the Wild Wild West.  The turn of the 19th century was an era when grizzled cowboys sucking cheroots were known to gun down fellow players holding black bitches or Aces high!  
Now days the classic card game lies at the core of the largest and richest live poker tournaments on earth - the World Series of Poker (WSOP), World Poker Tour (WPT), Aussie Millions and dozens more.  Poker in all its exciting guises is also at the heart of the high stakes cash games that can make and break players… just like that!
As with all forms of competition, poker has generated the greats of the game - men and women who have outwitted and outplayed all comers and earned wads of dollar bills in their quest and dominance of the final table.  Names like Jack Binion, Doyle Brunson, Stu Ungar, Annie Duke and Thomas 'Amarillo Slim' Preston will go down in history as some of the greatest poker players of all time.
Then there are the major money earners - professional poker players who have banked hundreds of millions of dollars in tournament winnings and cash games.  These highly skilled card technicians literally travel the world playing poker and banking the 'big time' in return.
Some have started their careers at an Aussie online casino just like ours.  They've practiced their strategies and fine-tuned their skills playing real money RTG games like Texas Hold'em Bonus Poker, Caribbean Draw and Caribbean Stud.  Once proficient in their poker play, they've levelled up to online tourneys and the big league of live tables at B&M casinos in Vegas, Melbourne, Macau and Vladivostok.  From there the sky is the limit!
Who are the richest pro poker players on earth?  Here's the estimated worth of three men who currently top the richest list in 2019:
Phil Ivey - $100 Million
Phil Ivey is a genius with the cards.  He is also an inducted Poker Hall of Famer and one of the top contenders for the richest-ever list.  The co-called Tiger Woods of Poker has won 10 coveted WSOP bracelets, reached more than 30 final tables and banked it big time in 59 money finishes.  His achievements at poker are such that even the great Tiger Woods would be delighted to emulate him both on and off the golf course!
Ivey is widely regarded as one of the best poker players ever to grace this earth.  He's won all the tournaments that really matter, from the Aussie Millions and the Monte Carlo Millions to the WSOP and European Masters.  
At the 2002 World Series of Poker he was so good, he earned the nickname 'The Phenom'.  Along with his live tournament antics, the man has made a fortune appearing in blockbuster TV shows like High Stakes Poker and Poker After Dark.
By 2018 Phil Ivey had earned more than $26,5 million in tournament winnings alone.  That's really a meagre return when compared to the private high stakes cash games that are Ivey's bread and butter.  In one game against billionaire Andy Beal it's reported Ivey pocketed a cool $16 million in crisp hard cash.  
When you take into account that he plays at least one or two big bucks cash games every other month, it's no wonder the 42-year-old is sitting pretty with an estimated $100 million in shiny new bank notes cluttering up his account! 
What's even more extraordinary about such an obviously talented and successful man is that Phil Ivey is likeable and always humble in defeat.  There's never been so much as a whiff of scandal around a player who has become a poker phenomenon!
Sam Farha - $100 Million'  
At 60 years of age Sammy Farha is a veteran player who's made a name for himself in the competitive world of pro poker.  He's also a fun guy that has an incredible knack for reading his opponents' body language and tells.
The Lebanese born poker master may have a terrific sense of humour and a great attitude to life but his bonhomie belies an aggressive streak that more often than not emerges at the tables… to great success.
What differentiates Mr Cool from the rest of the pro poker playing mob is his calmness in battle, even in the heat of the final table showdown.  Farha has three WSOP bracelets and nine money finishes for his efforts.  He also finished runner-up to Chris Moneymaker at the 2003 WSOP Main Event, banking $1,3 million in the process.
As with Phil Ivey, it's Farha's success in cash games that has generated the really big money for the Omaha specialist.  Along with the poker winnings he has earned royalties from a book he co-authored detailing his Omaha strategies.  According to recent estimations Farha's net worth is around $100 million, a bank roll that matches Phil Ivey's in both size and significance.
Don Bilzerian - $150 Million
Don Bilzerian is the playboy prince of poker.  He's also a pretender to the poker throne.  The hunky and seriously good-looking Armenian American is really an unknown quantity as he doesn't play tournament poker… only private cash games.  The one time he did go mainstream was at the 2009 WSOP Main Event when he finished in a disappointing 180th place.
Bilzerian is the spawn of a predatory businessmen turned convicted tax felon.  Instinct tells me that he's taken after his papa in all the inelegant and hostile ways.  He's big, brash and contentious and his behaviour is often more criminal than conventional.
He's the kind of guy that's into fast cars, fast women and big guns.  He also loves to brag about his conquests - in and out of bed - on social media… that's so not a gentlemanly thing to do.  According to Bilzerian's big mouth, he won more than $50 million at the tables last year.  Although the 38-year-old claims he amassed his $150 million fortune playing high stakes poker, there's really no way to corroborate the claim. 
Rumour has it he's a trust fund kid that likes to play poker with super wealthy celebrities who have no real knowledge of the game.  Does Bilzerian deserve his spot on the richest poker player list in 2019?  That's for you to decide.
Take the Poker Challenge - Sign Up at a Star Rated Aussie Online
Now that you know how much money's involved in poker, why not take the challenge now.  Sign up at Springbok Aussie online casino and play the real money poker games until you can form winning poker combinations in your sleep.  Who knows, you may have a whole new financial future lying in the palm of your hands!