The Highest - and Lowest - Elevation Casinos in the World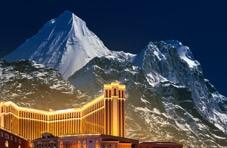 No matter where you are in the world you can always find a neat place to play the slots, video poker machines and the tables.  There are massive gaming halls overflowing with luxury finishes and features and quaint little casinos designed for the mini-market.  Hang around London for a while and you may still be able to flag down a legendary taxi cab and get your wagers away on a gaming layout set up on the back seat!
This time around we're going to explore the highest casino in terms of elevation above sea level.  Then we're going to turn our attention to the gambling dens located on some of the lowest spots on earth.  Watch out though.  When the tide comes in you may find yourself floating away into the sunset with your casino chips in tow!
Where to Find Top of the World Casino Games
According to the operators of Wildwood Casino, their establishment is the highest elevation casino on earth.  It stands 2924 metres above sea level in the quaint historical mining town of Cripple Creek, Colorado. 
It's one of nine gambling destinations that have transformed Cripple Creek from a gold mining ghost town into a thriving tourist centre with real money gaming at its core.  Along with the creatively named Brass Ass, Bronco Billy's and Double Eagle casinos, the Wildwood is a re-imagining of the so-called Independence Lode.
To those of you who weren't born and bred high up in the mountainous state of Colorado, the lode was a vein of gold ore that turned out to be one of the largest gold strikes in history.  At the time of its discovery 140 years ago, the dazzling find had an estimated price tag of around $500 million!
Nowadays you can still strike it rich in Cripple Creek.  Saunter on through to Wildwood Casino and the 500 plus slots and video poker machines, together with the craps, blackjack and roulette tables, have the potential to pay out in 'solid gold'.
Mobile Casino South Africa: Welcome to The Mile-High Club of Gaming
There's one casino we can safely say has a higher elevation than Wildwood… and that's Springbok mobile casino South Africa.  These days you're allowed to play full-on casino games in the air as your wing your way effortlessly to your next destination.  Forward thinking airlines like British Airways, Emirates, Lufthansa, Alitalia, Etihad and Mango supply passengers with free in-flight Wi-Fi.
That means you can tap into latest release RTG slots, video poker variants and table games at really heady elevations that far outstrip those of the land-based Colorado casino.  With commercial flights operating at altitudes of between 9449 metres and 11582 metres, the number one rated mobile casino South Africa tops the highest-ever casinos' list hands down!
If you want to join the mile-high club but without all the naughty but nice connotations, simply download the Springbok mobile casino app onto your iOS, Android or Windows device.  Slip your smartphone or tablet into your hand luggage.  Wait until you are properly aloft and then start playing the best RTG casino games six to seven miles up in the air!   Now that's what we mean when we talk about high elevation casinos!
Best Casinos for Below Sea Level Betting
There are not many places on Earth that are below sea level and there are fewer still that have casinos close by.  Spots like the Turpan Depression in Mongolia, Lake Eyre in Australia's Outback and the Salina Grande in Argentina are so remote they'll probably never become entertainment and gambling Meccas like Las Vegas or Macau.
However, in one low-lying area in California the provision of casino games is what drives the local economy.  It's the elixir that makes up for steaming hot summer temperatures that routinely hit 50 degrees Celsius, the concerted lack of bright neon lights and the bleak nothingness that stretches out in all directions as far as the eye can see.
If you're looking for low elevation gambling in the heart of the Mojave Desert then the casinos of Death Valley are the ones for you.  The lowest point is 86 metres below sea level on a rather aptly named dry lakebed known as Badwater. 
Just a few kilometres away are places like Pahrump, Furnace Creek and Death Valley Junction, all with their very own dollar-based gaming halls.  You're sure to find sizzling hot casino games at Badlands gambling destinations that include Longstreet Inn, Stagecoach and Gold Town casinos!
Rumour has it the Israeli tourism authorities are seriously thinking about setting up a casino at the Dead Sea.  When that happens, you'll be able to spin the slots and play the tables at a surface elevation of 430 metres below sea level!
Beat the Low Elevation Badlands with Springbok Mobile Casino South Africa
Alternatively, you can take a trip to the salt pans and sand dunes of the Qattara Depression in Egypt's Libyan Desert or the Caspian Sea in Kazakhstan, Azerbaijan, Turkmenistan, Iraq or Russia with your smartphone tucked into your pocket.
When you're well away from prying eyes, you can juice your account with ZAR and unleash the magic that is Springbok mobile casino South Africa directly from your device's browser.  You'll be playing money games at some of the lowest points of land on Earth.   
What is the highest and lowest elevation casino in the world?  The best-ever mobile casino South Africa of course.  Give it a try right now.  You really can gamble real money on your favourite casino games… anywhere you want!