Come Join Us at Today's Slots Tournaments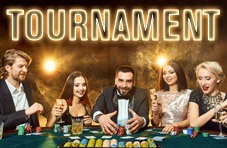 Interestingly, we get a lot of questions about our slots tournaments so we decided to devote an entire article to the subject.  We have discovered that of all the casino games we offer, slots are the game that are most suited for the kinds of tournaments we run.
Why Do Slots Players Like Tournaments?
The most important reason to play in slots tournaments is because they make playing slots more purely fun than playing as an individual.  Slots tournaments are a competition of sorts, of course, but they are competition in the way that keeping a ball in the air is a competition.
Do you remember the Friends episode in which Joey and Ross suddenly discovered that they had kept a ball in the air as they threw it back and forth for two hours.  They continued on for some tome and were joined first by Monica and then by Chandler.  Monica almost ruined the game by turning it into a serious competition.  Chandler almost ruined the game because he was known as a "dropper".
What had been a game turned into an unwanted competition.  Phoebe ended the game by catching the ball and simply putting it on the table unaware that the others were mightily striving to keep it in the air.  Monica tried to keep the competition going saying that Phoebe didn't know what they were doing but Phoebe had punctured the bubble about the competition and it became a game once again, a game that they could end whenever they wanted to.
Slots tournaments at Springbok are such powerful "competitions" that we run several every day, some for a week, and some on weekends.  Many slots players play exclusively in tournaments because they are so much more game than competition.
Entry Fee
Slots tournaments are so much fun because the entry fee is usually very small and often the tournament is a freeroll which means that it's free to enter.  Once you enter the tournament, you get a given number of chips that you "bet".  The winners are the ones who accumulate the most chips.  However, the accumulated chips aren't paid out as real money.  They are more like a statistic that reflects your luck in the tournament.
The luckier you are, the better your chances to win some of the prize money.
Meet Our Slots
One of the reasons we run so many tournaments is that we want to encourage our gamers to "experiment" by playing as many of our slots as possible.  Instead of being pigeon-holed into playing a small number of slots, we would like to see our gamers play all of our slots.
Every slot we offer has its unique features.  First of all, each has a unique theme.  Online slots players can travel back or ahead in time; far beneath the surface of the sea or high above the outer reaches of earth's atmosphere; or can relive ancient civilizations.
We offer the best in romance, adventure, and simple good humour.  That's why every tournament features a different slots game.  Many gamers discover a wonderful feature in the way the reels react to a win, the wilds create winning situations, or the bonus rounds might give the gamer a really big win, pushing your accumulated "score" higher!
Online Gaming at Its Best
Another reason we run slots tournaments is to emphasize the many advantages of online casino gaming.  In our regular games, we offer higher return to player rates than land-based casinos offer.  But this is not the point we wish to convey by running so many slots tournaments.  That message is that there is unlimited space at Springbok Casino so that a million people might be playing the same slot and there is still room for one more or a million more!
When you go to a land based casino, you likely want to gamble as long as possible.  You might eat at the wrong time or skip meals.  You might drink too much since the alcohol flows so freely.  You might sleep less than you should.  At an online casino like Springbok, you invest no money in travel and hotels so you don't ever need to feel pressured to keep playing when you're tired or hungry.
When you play in a slots tournament at Springbok, the competitive spirit is moderated by the realization that you can take a break any time and that there will be several new tournaments tomorrow and the next day as well and so on ad infinitum!
High Rollers Welcome
Even the highest of high rollers, enjoy playing for small prizes in our slots tournaments.  It is the competition that is not really competition that attracts players who have no problem spinning the reels for many Rand per spin.
You play "against" players not just from our big three countries, South Africa, Australia, and New Zealand.  Springbok has worldwide reach so our slots tournaments attract players from all over the world!
Pure Entertainment
Most of our gamers have to manage their bankroll carefully.  They love slots but need to maintain the proper perspective on extended slots play.  Here is where the many tournaments we run come into play.  You can play for hours literally at next to no cost.  In return, you get nearly unlimited entertainment and pure slots fun!
Our slots tournaments are a very good deal indeed!  Come enter a tournament today!