4 Good Reasons to Play 3 Reel Slots at Springbok Online Casino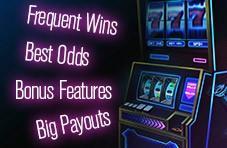 Online slots are the mainstay of all great casinos.  They're fun, easy to play and jam packed with themes, animations and juicy little bonus features.  They are just about the only real money gaming category at Springbok online casino that doesn't require specialised skills or complex strategies in order to win.
All you have to do is to open the slots game of your choice in your browser, select an appropriate coin value and the number of chips or coins you want to wager… and away you go.
Before we get into exactly why you should adopt 3 reel slots as your BFFs at Springbok, let's take a look at a bit of gambling jargon that's relevant to the topic:
Understanding Odds, House Advantage and Return to Player
Terms like odds, house edge and return to player are notoriously confusing, especially if you're a newcomer to gambling online.  The first thing to understand is they are all inextricably linked.
The odds are a statistical evaluation of the probability of you, the player, winning money betting on a specific game.
The house edge is the portion of the wagers that's retained by the casino as profit.
The return to player or payout rate is the portion of the bets that's paid out to players in the form of winnings.
Ideally, you want to spend your money on online casino games that have the best odds of winning.  In the colourful world of slots, it's the simple games that have the most favourable odds.  What do we mean by 'simple'?  In this case it means fewer reels and a limited number of gaming symbols and bet lines.
In addition to playing slots according to the odds, you want to find games that have a low house edge and a high return to player.  At most online casinos, a house edge of below 4 percent and an RTP of around 96 percent is a good prospect.  In real terms that means the house banks R4 and the players are paid out R96 of every R100 wagered on a particular slots game.
It's important to note that the RTP is only effective over the long term.  In other words, it's an indication of how much is paid out to all players over time.  That means you won't win R96 on every R100 you bet on your favourite slots but you will have a shot at winning your share of the total average payout.
3 Reel Slots Have the Best Odds of Winning
Now back to the reasons why 3 reel slots should be your go-to guys when you gamble online.  As we've already explained, simple games have the best odds and classic slots are the least complex in terms of structure.
There are only three reels in-play, gaming symbols are limited to just four or five and bet lines are typically restricted to between one and five.  These intrinsic limitations automatically increase the probability of hitting winning combinations on the reels… and getting paid out as a result!
Exploit the Low Variance of 3 Reel Slots    
One of the best elements of classic slots is they are generally of a low variance or volatility.  In other words, they are a low risk gambling opportunity that offers wins at a comparatively high frequency.
As there are only three reels in play, the maximum bet is a three coin wager.  Along with the typically low coin values that are available as betting options, three coin wagers mean your bankroll lasts a lot longer and your gambling sessions are extended.
Capitalise on Tidy Payouts
Despite the fact that classic 3 reel slots are classified as low variance games you can still win attractive payouts on the maximum three coin wager.  Factor in betting ranges that can extend from R0.05 to R5.00 and more and there's plenty of money available on the reels.
For instance, one of RTG's flagship classic 3 reel slots, Sevens and Stripes offers a top payout of 10,000 coins… and that's quite of wad of cash in anyone's estimation!
Coin It with the Big Cash Bonus Features integrated into Classic Slots
Classic 3 reel slots may be simple but there are often a few surprise packages integrated into game play.  By that we mean the traditional bonus features that can and do maximise the payout probability. 
Money spinning in-game elements likes wilds and multipliers are great little pick-me-uppers that not only make a game more bankable but increase the thrill associated with playing slots online. 
Play RTG slots right now and you'll soon discover hidden sweeteners like the 'Hold' and 'Guaranteed Win' features, free spins and the gambling coup de grace, the progressive jackpot!
If you're looking for a great way to spend your day, give the likes of Double Ya Luck, Santastic, Jumping Beans and The Three Stooges II 3 reel slots a twirl as they are all linked to a nice big constantly accumulating jackpot!
What's Hot at Springbok Online Casino?
Along with our select suite of 3 reel progressives, Springbok casino offers a wide array of scintillating 5 and 6 reel slots that feature the creative wizardry associated with the Real Time Gaming brand.
Games like Cai Hong, Dragon Orb, Fantasy mission Force and Gods of Nature slots are not only a thrill a minute, they're literally heaving with extra ways to win on the reels.
Then of course there are always the new titles to explore.  Trigger Happy, Mariachi 5, Mermaid's Pearls and yet another classic, 777 are the latest real money slots to be added to the 250-strong - and counting - online casino games menu. 
We advise you to check out your options right now and cash in on the bonus features, low variance and great odds synonymous with the best 3 reel slots in cyberspace!