3 Great Gambling Books for the Mobile Casino South Africa Time Out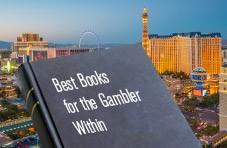 Believe it or not but even the best of us need a quiet respite from the adrenaline fuelled action of the number one mobile casino South Africa.  How you choose to use that time away from the scintillating tap-swish-and-win of real money gambling is entirely up to you. 
You can take a long walk on the beach with the dog, check out the latest fashions at the mall or stand your better half to a hefty lunch in the Winelands… where guzzling the finest Cape wines is a bountiful bonus!
All those options sound terrific but when I have a bit of downtime, I like to keep to theme - and that means immersing myself in some of the best reads that have gambling and casinos at their core. 
If you fancy the thought of getting to know the pioneering spirits, mafia goons and out and out loons behind betting on sports, dogs, horses and games, here are three great books that'll keep you seriously entertained:
1.  
Lay the Favorite: A Memoir of Gambling by Beth Raymer
Beth Raymer liked to live large.  In her home town in Florida she stripped, sashayed and did erotic lap dances for local men.  At around the same time she was showing off her booty, she was studying gambling operations in Nicaragua, Panama and Costa Rica - not as a regular student mind you, but as a fully fledged Fulbright fellow!
When Florida and the sex industry became a little passé, Raymer did what all girls of her dodgy reputation did and that was head for the razzle dazzle glitz and glamour of Las Vegas.  In the City of Sin, Raymer started out as a two-bit waitress in a cocktail bar.
Two Bit Waitress and a Fatal Meeting with Dink of Dink Inc.
A chance introduction to Dink of Dink Inc. - an unregulated sports bookie of poor repute - it was the first step in her stellar rise from waitron to sports betting 'madam' based in the Caribbean.
Raymer's reminiscences of her foray into legal and illicit gambling is well worth the read.  The Fulbright fellow went full circle at dizzying speed and soon counted all sorts of motley fellas as friends, foes, faux family members and lying, cheating and stealing associates.
Her story is told with brilliant flashes of humour and a fair bit of fun.  If you want to visualise how it all panned out for the Florida 'meisie', the book was made into a full length movie starring Bruce Willis, Catherine Zeta Jones, Joshua Jackson and the seriously accomplished English actress Rebecca Hall as the rather ribald Raymer.
2.  
Whale Hunt in the Desert: The Secret Las Vegas of Superhost Steve Cyr by Deke Castleman
Whale Hunt is a fascinating look at how Vegas casinos cater to the every whim of their billionaire high rollers. Although its initially fashioned as an ode to Steve Cyr, the book is more a sneak peek into the obscene lengths B&M casinos go in an effort to lure high stakes gamblers to their properties.
Cyr is a real-life casino host who currently works at the Palms Casino Resort as the director of player development.  He is also the central figure in the book as he single-handedly changed the way Vegas kowtowed to the rich and richer. 
Steve Cyr - Crafty Independent Casino Host to the Stars
 In a really savvy move, the Kansas born casino host started working independently with the gambling whales of the world.  He makes his money by pairing big spenders like Michael Jordan with casino properties and getting a cut of their losses.  
What's even more interesting is Whale Hunt is required reading for the MBA program at New York University and the Hotel School Casino elective course at Cornel.
Drugs, Women and Million Dollar Advances in Casino Chips
 If you're planning a career as a casino host, this book will provide you with all the tips and tricks required to hook a whale… whether it's drugs, multi-million dollar cash advances, free flights to and from casinos in private jets or simply the services of women of the night!
If you're not planning a career as a casino host, thank goodness none of the snorts or slaps and tickles that go on in Vegas are at Springbok mobile casino South Africa.  Here, you're still in line for a legion of cool bonuses and promotions in ZAR!
3.  
Casino: Love and Honor in Las Vegas by Nicholas Pileggi
Casino is a colourful account of two of the most notorious characters in recent gambling history - Chicago mobster Tony Spilotro and his side-kick Frank 'Lefty' Rosenthal.  The two virtually owned Las Vegas in the seventies and early eighties.
Rosenthal was the brains who managed the casino operations for the Mafia.  'Tony the Ant' ran a protection racket and spent his time planning audacious jewellery heists.  Together they struck fear into the hearts of legitimate business owners in Vegas.  They also swopped suitcases full of cash for illicit favours.
A Tale of Murder, Mayhem and Betrayal in the City of Sin
All went swimmingly for the duo until Spilotro formed an unhealthy attraction to Lefty's attractive showgirl wife, Geri… and the rest as they say is history.  The tale of murder, mayhem, betrayal and revenge is brilliantly told by crime reporter, Nicholas Pileggi - the man who also gave us Wiseguy, a number one bestseller that was crafted into the Oscar award winning film, Goodfellas.
The Basis of the Blockbuster Scorsese Movie
If you want a more vivid rendition of this ultimate Las Vegas love story with a Shakespearean twist, get hold of Martin Scorsese's Oscar-nominated movie, 'Casino' - it's based on the book.  In the blockbuster film the main protagonists are Ace Rothstein, Nicky Santoro and Rothstein's sexy wife played by Robert Di Nero, Joe Pesci and Sharon Stone respectively!
Now that you've had your fill of gambling-related literature, it's time to power up your iOS, Windows or Android smartphone and dip into the delights of Springbok mobile casino South Africa.  You'll find there's a lot more than entertainment waiting for you!  Check it out… NOW!