Easy or Hard to Learn, All of the Games at Springbok are Fun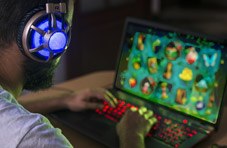 Online casinos have so many games that some players stay with their tried and true favourites and don't venture out into what for them is uncharted territory.  That approach actually works much better at a land based casino where you give up your seat every time you change games.
At an online casino, you never give up your seat in order to try out a new game.  Online casinos are designed by definition to offer players the flexibility they don't have at land based casinos.  So, we encourage our players to try out all our online games before settling in to a few favourites.
How Long Does it Take to Learn a New Game?
This is a great question and one that follows the advice we gave in the previous paragraph.  If, as we said, we urge all of our gamers to try out all of the games we have on offer, does that mean that five minutes, say, at any game will give a player a true picture as to whether he or she likes the game enough to stay with it?
The short answer to that long question is: no!
You need to give games enough time to get to know them.  Some games lend themselves to a quick study and some take more time.  So, here we're going to talk about which games are the easiest to learn and which are the hardest to learn.
Even Odds Bets
Some players will say that the games that offer straightforward even odds bets are the easiest to learn.  It is interesting that the two games with the most direct 1-1 bets are also the games with a more complex set of possible bets.
These games are craps and roulette.
If you play either of these games and stay with the simplest bets all the time, then they are certainly the easiest games to learn.  In roulette, you can bet on colour, odds or evens, or first half or second half of the 36 numbers and when you win, you'll be paid 1-1.
In craps, the odds bet has no house edge if you play it on every game.  The payout differs depending on the point but, in the long run, if you make the odds bet on every point, you'll break even.
So Many Bets to Learn
However, both craps and roulette have many other bets that are not 1-1 or zero house edge bets.  Most players will want to try some of those bets as well.  That's when these seemingly simple games can get confusing.
In roulette, you have to know exactly where to place the bet you want to make.  Do you put the coin on a corner or on a line?  If on a line, which line?  Or do you put the coin outside the lines?
Craps also has a large variety of possible bets.
So, all in all, craps and roulette are not the easiest games to learn.  They are however, great fun for the players who take the time to learn the different bets!
Video Poker and Blackjack
It is obvious that these games are certainly not the easiest games to play.  In video poker, you get five cards and can keep all or none or any number in between.  Which cards to keep is the fundamental decision a video poker player has to make.
It seems counter-intuitive to hold onto three cards to a Royal Flush but that is exactly the correct strategy in some circumstances.  That's because the payout for a Royal Flush is so high if you have bet the maximum on that game.
There are many counter-intuitive moves in video poker making it a very challenging game to learn.  The reason so many gamers have found that they love video poker over all other online games is a) the payout rate is close to 100%; b) they are motivated by the challenge; and c) because they took the time to learn the game!
Blackjack
In this game, you as the player have to play first and if your holding goes over 21, you lose immediately even if later on the dealer goes even more over 21.  So, many players always stand when they have 12 or more points. 
The correct decision when you have 12 or more points depends on exactly how many points you have and the up card in the dealer's hand.  There are, in fact, manty cases where the best strategy is to hit with 12, 13, or even 14 points.
In short....it's complicated and takes a good long while to perfect your game.
Poker
Casino poker is often a form of stud poker.  You need to play a LOT to become proficient at each of the forms of poker.
Are There Any Online Games That are Easy to Learn?
Of course there are!  Let's talk about scratch cards or casual games first.  These games are just fun to play.  Most players play them as a change of pace.  These games are very colourful and simple to learn.  The catchword here is easy fun.
Slots
By far, slots are the easiest games in the casino to learn.  There is, however, one decision that every player has to make when it comes to slots.  Some slots are considered volatile and some are considered non-volatile.  That means that in the volatile games, the wins are larger but fewer.  The non-volatile slots have a lot more wins but for less money each time.
A secondary decision has to do with whether you should play a progressive slot.  To win the progressive jackpot, you have to bet the maximum on the winning payline.  For some players, that is beyond their true gaming budget.  So, depending on your budget, you might play for a big jackpot or play one of the less volatile slots.
Some players prefer playing volatile games and some prefer the non-volatile slots but, in fact, most players don't know if the game they are playing is volatile or not.  It is easy to find out so it's best to know what to expect before you start spinning those reels.
The really fun side of playing slots online is that you can mix and match themes all day or night long.  That keeps your entertainment juices flowing.  This side of slots is not really available at a land based casino as you can't just switch games from one terminal; you have to go to another terminal to play a different slot.
As a result, land based slots players play a very narrow range of slots whilst online slots players can play a very broad range of slots if they let themselves do so.  The range of themes in slots at Springbok is so broad that allowing yourself to roam far and wide in slots is possibly the easiest decision you can make!