How to Get the Best Out of Springbok Casino No Deposit Bonus Codes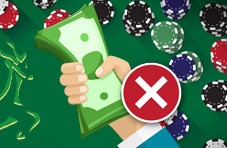 If you're serious about gaming you'll know how valuable Springbok Casino no deposit bonus codes can be.  When used properly, bonus codes are like the crypto codes on the blockchain - they are capable of delivering self-sustaining income streams which, over time, can add up to lots of real money.
Before we get into the mechanics of how to exploit these codes, let's take a look at what they are and what sorts of Springbok Casino bonuses are available in the casino.  There are free spins, deposit matching bonuses, free-cash-no-deposit-necessary bonuses, cash-back bonuses, comp point bonuses, and more.  In this article, we are going to go into depth looking at no deposit bonus codes.  So let's get to it....
What are No Deposit Codes?
In simple terms, no deposit codes are unique alpha or numeric codes associated with one particular type of Springbok Casino bonus.  They are basically used as a safeguard to ensure the casino awards players the bonuses or promotions they actually want.  For that to happen, the corresponding code - as published on the promotions page - is entered by players at the cashier.
What Types of Springbok Casino No Deposit Codes are There?
No deposit codes are linked to casino bonuses that do not require an activating deposit.  In other words, a player does not have to transfer funds into his or her Springbok Casino account in order to qualify for the bonus.
The most popular Springbok Casino no deposit bonus is a R250 free cash incentive aimed at new players.  It features 'Test-Springbok' as the coupon code. 
Win ZAR for FREE at Springbok Casino
This complementary cash is effectively a no strings attached betting stake.  As a prospective customer, you can use the bonus to check out the performance and functionality of the RTG casino games without having to spend a cent of your own.
Better still, you are entitled to keep a portion of the winnings generated by the free cash.  In the case of all Springbok Casino no deposit codes the cash out limit is 5 x the value of the bonus.  What that means in real terms is you can bank up to R1,250 for free when you claim the Test-Springbok coupon code!
Once you're satisfied that everything is operating as it should, you can formalise your relationship with the casino by depositing money into your account.   In so doing you'll automatically qualify for a new player welcome bonus that has its own unique bonus codes and terms and conditions of use!
Get a Variety of 
Springbok Casino No Deposit Codes
As a returning player you'll be eligible for a host of Springbok Casino no deposit codes that are linked to all sorts of cool giveaways - birthday bonuses, cash prizes, comp points, random jackpots and more.  
What is key here is that none of these player perks are dependent upon whether you have or haven't made a deposit in South African rand into your account - hence the term 'no' deposit bonus.
Now that you know exactly what Springbok Casino no deposit codes are, let's get into the nuts and bolts of how to use the codes to your best advantage.
Choose the Online Casino Games with Care
One of the most critical decisions you'll have to make is which games to spend the free R250 no deposit bonus on.  Ideally you want to play games that offer the best chances of winning.  That means you have to find the casino games with the lowest house edge - not the games with the largest real money pay outs.
In the wonderful world of cyberspace, you can find the average payout rate of most casino games online.  Popular gaming categories like video poker, blackjack and poker have games with a traditionally low house edge… and a comparatively high return to player (RTP).
Within these categories you'll find games with better payout rates than others - and these are the games you should be betting on with the free Springbok Casino no deposit bonus. 
Those of you who are not into video poker or table games have to be even more circumspect when it comes to selecting the slots you want to try out for free.  As a gaming category, online slots have a marginally higher house edge than the skill-based categories we've mentioned above.
What are the Best Slots for Springbok Casino No Deposit Codes? 
The RTG online slots you should be gunning for are the ones that are rich in in-game bonus features.  By that we mean the games that have extra little incentives built into play - such as cascading symbols, wild reels, win multipliers and free spins.
Along with the standard game features, RTG has integrated a few surprises in their blockbuster online and mobile slots.  A stand out feature of the so-called Reel Series of Slots are the jackpots that are randomly doled out to players after any spin of the reels.  There are also slots with a guaranteed win feature, so be sure to do your homework properly before you splash the free cash at Springbok Casino!
The Ins and Outs of the No Deposit Bonus Terms and Conditions
Besides the types of games you choose to play, it's essential your read and understand the terms and conditions governing the use of the Springbok Casino no deposit codes.  Here are the most important T&Cs:
You have to playthrough the value of the bonus 60 x before you can cash out winnings
The cash out limit is 5 x the value of the bonus
Only bets on slots, scratch cards, keno, bingo, Pai Gow Poker, European Slot Poker and Stud Poker count towards the playthrough
Go for the Smart Strategy - Register an Account at Springbok Online Casino Right Away
Now that you understand the value of Springbok Casino no deposit codes, your strategy going forward is a simple one.  All you have to do is click on the green and gold 'Sign Up' button, register an account and go to the 'Redeem Coupon' section in the cashier.
Once you've entered the code online, you'll be gifted R250 absolutely free to spend on the Real Time Gaming developed casino games… how cool is that?