Tales from the Mobile Casino South Africa: Why Texas Hold'em Rocks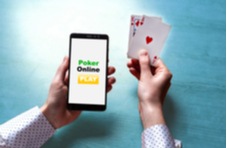 It doesn't really matter where you are in the world, Texas Hold'em poker rocks.  It is a community card game of the 1950s that is as iconic as James Dean, the Korean War, Marilyn Monroe and the first-ever Peanuts comic strip.
It was born in the Deep South, grew up at the World Series of Poker and came of age when gambling went from mainstream to digital.  Now you can turn up the heat at Springbok Mobile Casino South Africa with a touch of Caribbean Hold'em Poker that's so intuitive it's dead easy to win buckets of buckaroos.
A Chequered History Befitting the King of Poker
What is the big deal about Texas Hold'em poker?  Its chequered history of course.  It is a straight up derivative of stud and draw poker that was popularised in the Wild Wild West. 
Who hasn't heard the wonderful tales of tobacco chewing, snuff snorting cowboys who played poker with their Smith and Wesson handguns fully loaded and cocked for action.  If you don't know all about the Dead Man's hand, you really haven't lived.
From the Wild West Saloons to Mississippi River Boats
Along with being the card game of choice in the saloons of Dodge City, Tombstone and Deadwood in South Dakota, poker was big - real big - on the Mississippi paddle boats.  These gracious river boats used to ply upriver from New Orleans with jazz bands, poker aficionados and wealthy cotton barons standing heel to toe.
When the poker games became too heated and the cheating far too overt, the offending players would be grabbed by their breeches and tossed overboard.  Fortunately for players at our neat and natty mobile casino South Africa there is zero risk of landing in the 'pond'!
It was a dazzling time in America's history when folk were obscenely enriched by the Californian Gold Rush, the slave trade, cattle ranching and cotton plantations so large they would dwarf the size of France.  Money was so freely available it was liberally gambled away on poker and craps – both of which you can play right now at our mobile casino South Africa!
Texas Road Gamblers Breathe Life into a New Game
Around the early fifties an intrepid trio of poker players would travel around Texas, South Carolina, Virginia and Alabama playing cash games at every stop.  They were known - and feared - as the Texas Road Gamblers and consisted of the now legendary Doyle Brunson, Amarillo Smith Preston and Brian Sailor Roberts. 
These dudes knew their stuff and cleaned up where ever they went.  No-one really knows what inspired them to invent a whole new poker game - maybe it was boredom or maybe it was to give them the edge - but they sure did… and that my friends is how Texas Hold'em poker was born!
From Grunge to Glitter in Downtown Las Vegas
For a while Texas Hold'em was the propriety card game of Brunson and co.  Before too long it snuck silently into Vegas where it became popular in the grungy sawdust joints of Downtown.  It was the poker of choice in the underground labyrinths where 'regulation' was a dirty word.
In about 1963 Texas Hold'em poker went all posh and made the great leap from dingy Downtown to big money casinos like the Golden Nugget.
A decade later it was part of the action in the regular poker tournaments set up by Benny and Jack Binion, tournaments that were the precursors to the biggest poker show on earth – the one and only World Series of Poker or WSOP!
Perfect Your Poker Strategy: Play Caribbean Hold'em at the Best Mobile Casino South Africa 
From humble beginnings in Robstown - a rather nondescript suburb of the city of Corpus Christi - Texas Hold'em is the Main Event at the WSOP.   If you want to win a lavish gold bracelet or millions of dollars in hard cash, why not get yourself started on Caribbean Hold'em first. 
It is a super duper card game with a pretty impressive progressive jackpot as the main prize - so ante up at Springbok mobile casino South Africa right now and perfect your Hold'em poker strategy while you can!
What Else is Hot at the #1 Mobile Casino South Africa?
Apart from a whole heap of video poker variants and classic poker games, Springbok Mobile Casino South Africa is a veritable treasure trove of real money casino games.  There are evergreen table games like blackjack, baccarat and roulette and luck based speciality games such as keno, bingo and scratch cards.
The showpiece genre at Springbok is without a doubt slots - dozens and dozens of sizzling multi-reel slots that fall neatly into the classic 3 reel and new gen 5 reel and 6 reel video slots categories.
Benefit from a Posse of Casino Bonus Codes 
If that doesn't grab you maybe the oh so cool casino bonus coupons will.  Join the Springbok family and you will automatically be eligible for a free cash no deposit bonus, a wide range of deposit match bonuses, a mega menagerie of free spins and - my all time favourite - cashback on losses.
Go on, become Brunson for the day and play Caribbean Hold'em like a pro at the best ever mobile casino South Africa.  Sure, you may miss out on the jingle jangle of a WSOP bracelet but if you hit the progressive jackpot, you will hit a gold rush all of your own!